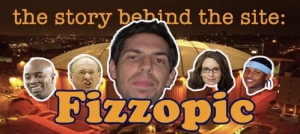 The picture below is me in Iowa City September '07, metaphorically getting pummeled by the enemy. This was the Orange that night, losing 35-nil, literally getting pummeled by the enemy.
Midwesterners can be so naively sweet. Upon entering the state on I-35, a sign read, "Iowa: Fields of Opportunity." For Orange Nation at that time, it was only an opportunity to get crushed. Again.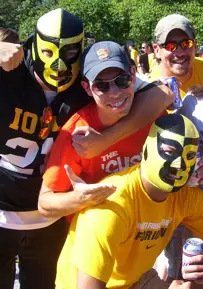 Since attending and graduating from the 'Cuse more than a decade ago, there have certainly been ups ('Melo, D-Nabb, G-Mac, the Final Fours). But the lows had made quite a comeback by the late aughts. The NITs, the quickly emptying Carrier Domes, the attention-starved A.D., the all-orange football unis, the entire Groobers Error.
Screaming, cheering, caring for Syracuse seemed so quaint at times. When you first arrive on campus at that great, big pressurized aluminum box you feel like anything is possible. Quickly, you realize it often seems to feel very impossible. This is the part of the story where this whole blogging thing comes into play.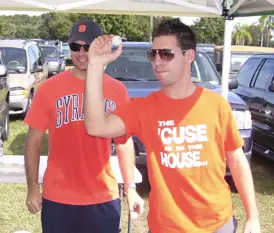 Group therapy had been the only salve for the scars. It was the vast network of blogs from like-minded, same-suffering Orange Heads that kept us from insanity.
Some of the work has been extraordinary, from "Troy Nunes is An Absolute Magician", to "Three Idiots on Sports" and "Hoya Suxa." The losing hurts a little less with a twist of masochism.
This is where "Orange Fizz" bubbles in. Is Poliquin still searching for another silver lining? What is Dr. Doom's "anytime minutes" plan when using cell phones simultaneously? How does Boeheim make that face? Syracuse athletics often feels like the set of a sit-com: chaos, absurdity, unintentional comedy.
In a few short months, the Fizz became one of the fastest growing college sports blogs on the web. Now, more than 5 years later, we're just trying to figure out why Nike thinks these unis are cool. We've been linked to by much larger sites like SI.com and TheBigLead.com. We've redesigned a few times. Added a real URL. Our little Fizzy Otto is all growns up.
Like it? Bookmark us. We're updated constantly.
It's been gratifying and humbling watching the Fizz grow. More importantly, we all just hope you've been entertained. Because as fellow brow-beaten, exasperated and delirious members of Orange Nation, we could all use a moment of sanity.
Sincerely,
D.A.
(adsbygoogle = window.adsbygoogle || []).push({});