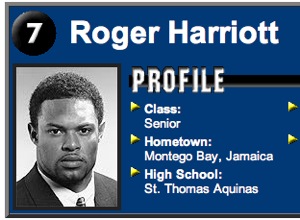 We barely knew ye, Roger Harriott.
The newly minted member of Doug Marrone's coaching staff resigned as Syracuse running backs coach.
There was no press conference, just a press release. But his snap decision to uproot his family from South Florida seemed to be the mistake which led him to reconsider.
Which is interesting, considering this was his quote to the Miami Herald's Larry Bluestein when he took the job:
"Talk about a quick decision. They offered and it was something I simply could not pass up. A great move for the entire family."
Or not.
The Fizz tracked down Harriott to ask him what fell apart. Listen to theFizzCast:
"It was an agonizing decision between my wife and I. Great opportunity for me personally, but… we weighed out the dynamics of the family and the job.
We have four little girls right now. We didn't marry into the college coach lifestyle. We said it may not be the right time for me to take that for our marriage and in terms of raising the kids."
Interpretation: Mrs. Harriott put the smackdown. She didn't wanna be dragged around the country as the widow of a college assistant who's out recruiting and trying to rise through the levels of the profession.
Too bad.
This is not a man who sounds thrilled with the way thing turned out.
The concern is that a foothold in South Florida recruiting may have left with Harriott's luggage. His University School in Davie, FL gave SU four-star recruit Max Beileau and Bryce Hawkes.
Mr. Harriott: Are you sure you wanna leave? Have you been to Dinosaur yet?
(adsbygoogle = window.adsbygoogle || []).push({});