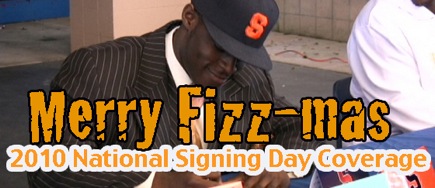 (10:12p – Ted Conroy)
Talking with Ryan Murray from'Cuse Confidential today, he summed it up well: This wasn't an unexpected day for the Orange, but it was a productive one.
The team has some serious prospects in the class of 2010: John Kinder has the potential down the line to be a serious threat at quarterback.
Max Beaulieu is the stud of the class, and hopefully he represents opening the pipeline that is South Florida.
Dom Timbers has a good chance to compete for a running back spot down the line, and can provide tough runs.
And Deon Goggins may end up being a great football player, but he'll end up doing a lot more than that, including cornering the NYC market. Don't believe me? Just listen to The FizzCast.
First full recruiting class for Marrone provides solid footing for the SU football team: now it's time to build off it.


(8:05p – Ted Conroy)
Deon Goggins is not just a football player. When he made the JuCo defensive lineman decision, he was looking long term, not just playing time. When The Fizz caught up with him, he told us he's going places.
"Oh man, I'm very ambitious, I'm really one of those guys who really has a lot of plans. I wanted to do something that was fun, while I'm having fun, playing ball."
What types of plans? Graphic Arts, film and digital media. Part of the reason he's coming to the 'Cuse is to be close to the New York City market.
He said he felt a fatherly connection with Marrone (running theme today), which helped his decision along. What about the football, though? He plans on going all out from day one.
"I'm comin' in and bringing a little West Coast rawness to it. Just raw and physical. You just hope the other guys are as ready to be physical right along with me, because I'm ready to do it."
So do we.


(7:39p – Ted Conroy)
Just spoke to Jonny Miller for the FizzCast, and the kid is crazy excited to head up to The Hill. The quarterback had no problem traveling all the way from Denver to get there.
"When I was out at Syracuse it felt like home to me. The people were so great, everybody out thee the community, they treat you right."
As for the coaches, he loves them too. He said coach Marrone has a ton of knowledge to run the offense, and he wished departed offensive coordinator Rob Spence the best.
As for all that distance, the Miller family came up with a simple solution: "My mom actually got an airport job so she could fly out to see all the games."
Wow. My mom bakes me cookies, I thought that was awesome.


(5:19p – Ted Conroy)
The Fizz tracked down Jeremi Wilkes, a three star cornerback from Tampa (FL) Catholic who sent his LOI to Syracuse today.
He chose the Orange over some higher-profile schools like Iowa and Florida State, and once again, misery in Piscataway. Why? Because he values a college degree. You don't say.
"I really like the school, and the opportunities not only on the field, but you know, education-wise."
SU > Rutgers. There, that was easy.
So how did he end up on the 'Cuse's radar? Thanks, YouTube!
"I think it might have just came up when I got my highlight film," Wilkes said "I hadn't heard anything from them, and then all the sudden I get a call from them, and the rest is history."
History is right. Welcome to The Hill, Jeremi.


(5:02p – Mike Couzens)
In front of a packed house including The Fizz, in the basement library of Christian Brothers Academy High School, Macky MacPherson made it offical РSyracuse will have another Mac Attack.
Coach Mac's grandson sent his Letter of Intent into SU this morning but had a signing ceremony along with two other high school teammates this afternoon (they're attending New Hampshire and Penn).
MacPherson was the last of the three players to be introduced by CBA Athletic Director Buddy Wieklinski. His mom Maureen seated to his right whispered right before he made his announcement, "The least surprising." When you're going to play for SU, seems like the word gets around quickly.
MacPherson tells The Fizz: "When I was little, probably around five, I wanted to play SU football so it's kinda been like that dream come true. And this is the final stamp Рreal exicting", said the younger MacPherson.
"It's one of those things, you dream about it. I kinda lose some sleep over it. It's great to do."
His mom chimed in afterward, "We used to joke around that we found out we liked autumn after my dad stopped coaching because we wer ealways so nervous during fall. And now we're right back in it where we're gonna live and die for the games."


(4:58p – Mike Couzens)
Snow couldn't stop Adrian Flemming on the biggest day of his life. His high school had a snow day today, but as he tells The Fizz he still made it in to fax his letter of intent to a phone number that starts with a 443.
Only seems appropriate that it would snow on his signing day, huh?
"I don't know what it is about Syracuse, but it fits my personality. I just love like, how the people, are the atmosphere, what the school brings to me, I just love it."
Flemming is juiced about his new position coach too – former Orangeman Rob Moore, who he already knew all about.
"I plan on doing everything he did pretty much, he's like an inspiration to me."
Flemming wants to leave tomorrow to get back up to Syracuse. "My last time up there, I didn't wanna leave."
Enjoy senioritis Adrian, you're gonna miss it when you're suffering without air conditioning on South Campus this summer. Trust us.


(2:18p – D.A.)
One of the most intriguing storylines developing today is the ongoing Syracuse-Rutgers recruiting battle.
Add one more win to the Syracuse tally: LB Malcolm Cater, Riverhead High School on Long Island.
Cater had committed to Syracuse last summer, but had a change of heart and agreed to play for Greg Schiano at Rutgers during an official visit with the Scarlet Knights last month.
Late word today, however, is that Cater is back with the Orange.
Earlier this morning, The Fizz spoke to Keondrick Lyn from Miramar, FL. He had been at the center of a recruiting battle between Marrone and Schiano as well. When we asked him if he's excited to be ballin' in the Big East?
"I just can't wait to play Rutgers."
The Knights had the momentum swing in their favor earlier this week, when Gareef Glashen (Carol City, FL) decided at the last second to opt for Piscataway over Central New York.
The biggest fish reeled in during this new Border War may be DL Max Beaulieu (Ft. Lauderdale, FL), who was swayed to choose the Orange over the Knights when SU upset Rutgers at the Dome this season.
Photo credit: Newsday.com

(12:08p – Mike Couzens)
When Jerome Smith woke up this morning, it was because his phone wouldn't stop buzzing. The Fizz was his next call. "From probably four o'clock this morning I've been getting text messages about good luck, and good job and congrats."
And after that? "I was up early in the morning ironing clothes and trying to do stuff to pass the time."
Dude, I'm in my twenties and my mom still irons my clothes.
"You're not only a teenager now, you're a future Syracuse bound athlete – anytime good or bad you do anything, that's what it reads. It changes pretty much everything in your life."
Smith has already got things in perspective and sounds ready to go.
He says he spoke to Greg Adkins this morning around 8:30a and plans to talk to Coach Marrone later to tell him, "Thanks for giving me the chance."


(11:48a – Ted Conroy)
Dom Timbers is signed for the Orange and excited to come to the tradition-rich Orange.
The Fizz just got off the phone with Timbers,the Woodland Hills (PA) star who averaged more than seven yards per rush this year. Good kid (yes sir, thank you's – he probably doesn't know we'll be classmates next year).
So why is the Pittsburgh native coming to Syracuse? He had a dream to play for the hometown Panthers.
"Every kid has a little bit of interest in their home school but it didn't work out how I wanted it to. So Syracuse was my next biggest offer – and they really welcomed me in.
"(In high school) my family pushed me in school and out of school. (On the campus visit to The Hill) I saw the tradition, the coaches showed us around campus, some of the history. They're trying to rebuild it. I wanna be part of that."
– – –
The Fizz is flowing. The Sunshine State pipeline is finally open once again, as Marrone has tapped at least five kids this class from Florida.
One of them being speedster Keondrick Lyn.
Listen as The Fizz's Jared Schwartzcatches up with the Miramar (FL) defensive back.
"Just once I met with the Syracuse family, that's when I decided to make the decision. I just liked how they kept it real. Tell me truth, don't lie to me. That's what they did. They're trying to build a program and that's what I want to be part of. This is the program Jim Brown and Ernie Davis played at."
He was also recruited heavily by Greg Schiano. Is he excited to play in the Big East?
"I can't wait to play Rutgers."
We officially love this kid.
KeondrickLynInterview.m4a

(11:07a – Mike Couzens)
Get ready Nassib and Loeb – your feet are officially being held to the flames. Quarterback John Kinder is officially coming to Syracuse.
The Fizz spoke with him immediately after signing his letter of intent. "I'm definitely ready to get up there and get going. I'm a true competitor, I love to compete. I'm just gonna go up there and give it 100% and see what happens."
Kinder says Doug Marrone played a big part in him wanting to be a part of the action on The Hill. "Just his love for the college and seeing where he wanted to go with the program. That program is going to do a complete turnaround and I just wanted to be a part of that."
He's also looking forward to having Marrone call the plays next season for the Orange because of Doug's NFL background.
And for the record, he didn't wear an SU hat, or even a tie today. He went with the Syracuse football sweater. He's one of Marrone's Marauders already.


(10:07a – D.A.)
Interesting that the third-overall prospect in this year's national recruiting class is from the state of New York.
The Fizz documented DT Dominique Easley from Staten Island back when he gave a verbal to Penn State. Today Easley signs on the bottom line to play with the Gators.
Needless to say, when states like Florida, Texas and California are pumping out blue-chip recruits, high school BMOCs and future All-Americans it's truly rare to see the third-rated kid come out of the five boroughs.
Easley also considered Boston College and Rutgers (although who knows how seriously). With Marrone's emphasis on the NYC-area, timing might just have been incredibly unkind to the Orange.
If Easley was say, class of '12, could Marrone at least been part of the conversation? Yeah, probably. You give Duggers four full recruiting seasons, The Fizz will bet good money he can be in on any kid from the city who's also considering the Knights or Eagles.
Can he ever win a battle with Penn State and Florida? Impossible to say. But if Easley happened to be born in 1994 instead of '92 (feel old?), SU might have had a fighting chance.
The Fizz coverage should be pretty comprehensive today. As it stands now, we are scheduled to have Mackey McPherson, Jerome Smith, Keondrick Lyn and John Kinder stop by for Fizz-clusives.
Also, the legendary recruiting analyst Larry Bluestein will join us later this week for a FizzCastfor a complete Signing Day recap. He's based out of South Florida, so he'll be giving us insight into the newly opened Sunshine State pipeline,including Lyn, Max Beaulieu and Brice Hawkes - all kids in his backyard. Plus, why Gareef Glashende-committed from SU and opted for Rutgers at the last second.


(8:47a – Ted Conroy.)
We here at The Fizz feel in the rare mood of a stage actor on Broadway, a president on his inauguration, or Groobers on the morning of Akron: it's gametime.
Throughout the year, The Fizz chronicles every important name across the Syracuse recruiting landscape (and free of charge!). Today is The Fizz's Christmas.
We're updating all day, podcasting constantly, and tweeting like my surround sound system (yeah, I went there).
Welcome to National Football Signing Day 2010: Fizz First-Style.
Let the games begin.
(adsbygoogle = window.adsbygoogle || []).push({});