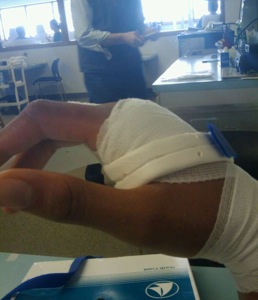 At the start of the season, Mookie Jones threw his headband into the crowd while walking off the floor. He wanted more minutes, but understood his role.
Now he has a broken finger, and we've been treated to the pictures on Twitter.
That's the summary of "controversy" for the Syracuse Orange this season.
No meal card issues, no Halloween night throwdowns, no major injuries. The '09-'10 season has been as good as any Orange fan could have asked for (with reinforcements on the way as well).
Putting things in (short term) historical perspective, this season has been the (nearly) perfect campaign for Syracuse. How far gone are the days of Scoop's Uncle and Andy's injury? Paul Harris' perpetual unhappiness and Devo's constant headaches?
But can this team do no wrong?
Almost. The only thing that can derail them now would seemingly be a painful early exit in the Big East Tournament.
Appears Jim Boeheim is the sure fire National Coach of the Year.
Nova-geddon is ahead this weekend, and the Wildcats just snapped their first two-game losing streak in two years to keep the hype alive.
And to close out the season it's St. John's at home and Louisville on the road. Certainly not the easiest of games considering some of the upsets the Big East has seen, but it certainly could be worse.
So keep your fingers, eyes, toes and anything else you can cross, crossed because the momentum of this season is not slowing down.
(adsbygoogle = window.adsbygoogle || []).push({});