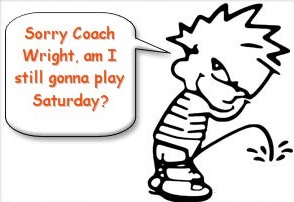 How do you celebrate a momentous victory over USF? You pee in public, of course.
Villanova junior Corey Stokes has been cited for public urination, an incident that took place about a mile from campus outside a bar on Lancaster Avenue some four hours after the Wildcats' 74-49 win over the Bulls.
"Stokes and some teammates just had left an off-campus bar around 3 a.m. when police riding past in a patrol car caught him urinating between two parked cars."
We actually have to give Stokes credit here. Have you ever been to the campus of Villanova? There's huge, imposing crosses and crucifixes every fifteen feet. It's gotta be the single most intimidating college in the country to take a public piss at. Everywhere you turn, Jesus is whispering, "Can't you hold it, my son?"
Plus, Stokes went off for 11 points that night. I mean, 11 points. He basically dropped a Kobe on the Bulls. That's almost six points per half. He owned USF. Celebrate Corey! Go get hammered and pee somewhere!
Coach Jay Wright in a statement, "This was a simple mistake by a college student. Corey regrets it and apologizes for it. We will now deal with it within our basketball family."
There ya go Jay! Way to put the foot down! What a disciplinarian this guy is, huh? No wonder he's been able to land Top-5 recruiting classes to an uptight over-the-top Catholic retreat disguised as a university.
Suspend him?!? What are you kidding me? We have Syracuse at the Dome on ESPN Saturday!
Wright added, "Not only will Corey not be suspended, he will be named captain for the night. We are very impressed that Corey's work ethic and attitude have carried over to off the court. He was merely preparing for what we plan to do on Saturday, which is pee all over ourselves."
(adsbygoogle = window.adsbygoogle || []).push({});