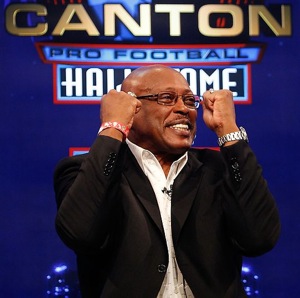 Floyd Little is pretty bad ass cool. He's also a Hall of Famer.
The former Syracuse running back got the nod last night for Canton, after his extraordinary work for the hapless Broncos of forty years ago.
Little was part of the #44 legacy – following Jim Brown and Ernie Davis as SU running back studs. Because he wasn't quite Superman like Brown, nor the heart-wrenching story of Davis, Little is sometimes overlooked for his exploits at the 'Cuse.
But like at SU, Little was outstanding in Denver, one of the greatest running backs of his generation. When he retired in 1975, Little was 7th on the NFL's all-time rushing list.
The night before his election, senior committee member Ron Borges of the Boston Herald spoke to The Fizz.
"I watched him as a boy, I knew how good he was and how bad his teams were. He belongs, long overdue. I think he was a guy who was blocked because of the old AFL, when there was a lot of anti-AFL votes because of NFL die-hards. It's his one shot to get in, I hope he makes it."
Little has been an unabashed Orange booster in his latter years. He has been visible as part of the SU football fabric. He's one cool old dude.
"You know what ticks me off? People try to tell me now that an annual salary of $25,000 was a lot of money 30 years ago. Well, (Seahawks running back) Shaun Alexander, a guy who couldn't carry my jock strap, signed a $62 million contract in 2006. Even with inflation, you know the relevancy between $25,000 and $62 million? None. There is no relevancy."
How awesome is that? Ripping Shaun Alexander. This isn't like decrepit Bob Feller blasting every baseball player under the age of 70 either. Little's right. He could own Shaun Alexander. Love it.
Kids, don't know much about one of the most under-appreciated SU ballers ever? Check out this awesome profile done in the Denver Post earlier this week, plus their Floyd photo gallery.
"The Hall of Fame won't call twice. I've got to own this. Right now. There won't be another chance for me.
Do you know the average life expectancy of an NFL player? It's 58. And you're talking to a 67-year-old man. So I'm already on borrowed time. I don't have that many years left on this earth. I don't want to go in the Hall posthumously. No, sir. That's not for me.
I need to be alive to enjoy the celebration with family and friends. Forget posthumously. If I'm not here to enjoy it, give the honor to somebody who's still breathing."
For as bad as Syracuse football is these days, Canton is littered with Orange. Little joins Jim Brown, Larry Csonka and John Mackey among other Syracuse players in the Hall.
Floyd Little, NFL Hall of Famer. Now that's bad ass.
(adsbygoogle = window.adsbygoogle || []).push({});