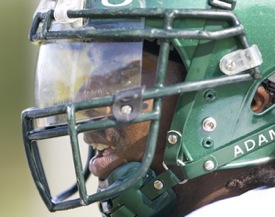 Tomorrow marks the Christmas Day of the Fizz Universe - National Letter of Intent Signing Day.
So let's call this Fizzmas Eve.
Of course we're talking about football here (because it's also NLI day for Field Hockey, Soccer, Track and Field, Cross Country and Men's Water Polo).
With that in mind, let's take a look at the top five names that should be inking a letter with the Orange tomorrow:
1.¬†Max Beaulieu (DL-pictured) – Arguably the biggest name in the class for a few reasons. The 6'4″, 245 lb. defensive end comes from Florida and played under new SU assistant Roger Harriott. Beaulieu is widely known as a stud athlete and helps to bolster the Orange defensive line. He also may represent the beginning of re-opening the Syracuse pipeline to the Sunshine State.
2. John Kinder (QB) РThe Long Island quarterback has proven through his high school days that he's got the ability to run a quick, attacking offense. Is he going to be asked to pilot Marrone's Marauders in year one? Nope. But he will be an important cog in the battle for QB between Ryan Nassib and Charley Loeb helping to push them along.
3.¬†Adrian Flemming (WR) – The sheer numbers alone (6'4″, 195) invoke visions of Lavar Lobdell dancing in our heads. For everyone's sake, we can hope that Flemming will graduate with more than one career TD, however. What he may lack in experience, Flemming has in size. The SU receiving corps isn't exactly stacked heading into next season and if Flemming can produce an Alec Lemon type campaign, things will look good.
4. Dom Timbers (RB) - ESPN says, "Timbers has the size, steady speed and quickness for the running back position at the major level of competition. The more you see the more interesting this guy gets." Even though Delone Carter will be back for another year, this adds another strong player to an already deep Syracuse backfield. Oh yeah, he also picked SU over Pitt and West Virginia. Ha!
5. Marquis Spruill (LB) РLooking at the production the Orange got out of RB-turned-LB Doug Hogue, freshman E.J. Carter and former benchwarmer Ryan Gillum, imagine what a 4-star linebacker could do? Spruill spent an extra year at prep school to get some more attention. He's already on campus taking classes this semester.
Those are The Fizz's Big Five to get excited about, but don't overlook the rest of the incoming class either. We'll touch on all of them throughout Signing Day.
Keep F5'ing The Fizz all day tomorrow as we bring you Merry Fizz-mas 2010 Рcomplete coverage of signing day from top to bottom.
(adsbygoogle = window.adsbygoogle || []).push({});