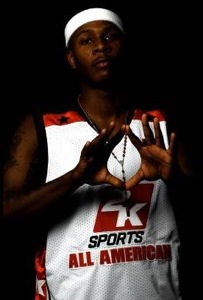 The writing has been on the wall for a while, but it seems all but certain: Josh Selby's (alleged) courtship with SU is over.
Check the boards. Rivals has him listed with no interest for the Orange.
Scout also says the list is down to four, with Syracuse not on it.
It shouldn't come as too surprising, considering the fact that he didn't have a visit planned to the 315 before the late signing period.
But still, would you like some salt with that wound? Selby de-committed from Tennessee to begin this process. Those same Vols who, as as The Fizzextensively covered, plucked Tobias Harris from SU's grip.
Jerry Meyer from Rivals kicks the 'Cuse fans in the side with this one.
"Josh Selby has publicly stated that Arizona, Connecticut, Kansas and Kentucky are potential destinations for him. However, there may be another school in the mix that hasn't been mentioned recently. Selby previously committed to an SEC school, and it turns out that team might be back in the running."
This seems to finalize Syracuse's (still incredible) 2010 recruiting class, barring a crazy turn of events with Brandon Knight. Besides; Scoop scored just 18 on Saturday. We're down.
(adsbygoogle = window.adsbygoogle || []).push({});