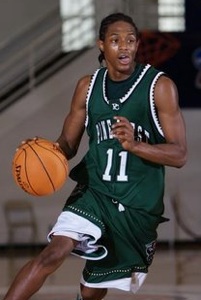 Brandon Knight's praise has come from everywhere, including the energy drink industry. He won last year's Gatorade National Player of the Year, and yesterday, he did it again.
The best part about this story is how he found out. Per ESPN:
"I thought we were taking a test during second period [modern American history], but suddenly we had a guest lecturer, and cameras were taping it. I thought the cameras were taping a promotional piece for the school and Alonzo [Mourning] was a guest lecturer."
Right. A test. You know how The Fizz has documented his 4.2 grade average? Well, we would like to announce it was a fact error.
"When he enters college, Knight says, he'll have earned 21 credit hours, thanks to a demanding college-preparatory schedule at Pine Crest, where he maintains an eye-popping 4.3 weighted grade point average (on a 4.0 scale)."
For the substantive basketball stuff as player of the year, he's just the third male baller to do it. The other company? Lebron James and Greg Oden (pre-camera phone we assume).
What can't this kid do? He won two state titles in four years at his school, the county's all-time leading scorer, and he's playing in just about every all-star game the country has to offer.
He's still got the 'Cuse on his list, and for what it's worth, it offers the most competitive academics of his final choices. In fact, Florida is probably the only school that compares in terms of books.
It all comes down to him, and it doesn't seem like he's letting anyone in on his plans.
For now, he can just sit back and swig an Orange Gatorade. No subliminal messages there
(adsbygoogle = window.adsbygoogle || []).push({});