By now, Orange Nation knows the deal.
Today at 2:00p, Louisville will shut down… (ahem)… historic Freedom Hall against Syracuse.
Despite the arena looking more like Shoppingtown Mall than a sports facility anyone would grieve its loss, Cardinals Faithful will salute its basketball lineage.
Denny Crum's glory years, from the mid-70s through the late-80s. "Nervous" Pervis Ellison and the '86 team. Hopefully, Rick Pitino will have three or four of his mistresses wearing Denny Crum hairpieces to commemorate the event.
However, one look at the accompanying picture makes you realize just how classy Louisville once was. While now it's known as a hot spot for Hollywood celebs to feign interest in a horse race while sipping $1,000 mint juleps, at one time the town was known for garish red clothing.
Look at Denny Crum, seated, greeting fans, wearing a red blazer – so red, it makes Captain Kangaroo blush.
Check out the woman behind him. Some type of wonderful denim outfit with red in-seams, red buttons and red collar/scarf/explosion near the neck.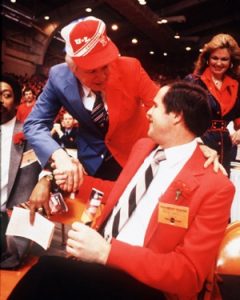 Finally, give that old man speaking with Crum a second glance. The over-the-top high-riding red Louisville trucker hat is a beautiful compliment to his jacket. Which is one-side light blue – one-side red. We'll meet in the middle at the button. That's amazing. Craig Sager and Don Cherry are both whimpering in the corner right now.
See ya on the floor Cards. With hopes of shutting down your ugly red party.
(adsbygoogle = window.adsbygoogle || []).push({});