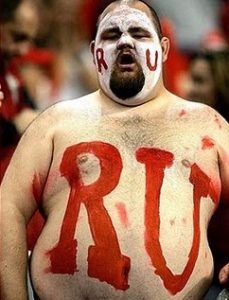 Intriguing story posted by the Chicago Trib on the ongoing discussions for Big 11 expansion.
We all know the backdrop: The Big 10 needs a 12th member to facilitate the much sought-after football championship game.
But from the crowd of contenders (which by the way includes Syracuse), could Rutgers actually be the favorite?
"The consensus among Big Ten sources, officials from other conferences and TV executives is that Rutgers offers the best package. Missouri is second and Pittsburgh third."
The attraction of the eternal (until recently) doormat of the Big East? The market and the Meadowlands.
"The New York market has 7.5 million TV homes, and the Big Ten Network would love to get them on expanded basic cable rather than forcing subscribers to pay extra via a sports tier.
Rutgers will play the first ever major-college football game (vs. Army) at the new Meadowlands Stadium, a $1.4 billion facility that will open for the Jets and Giants this fall. Think there's be any trouble selling out the 82,500-seat stadium for a Penn State-Rutgers game? Or when Ohio State or Michigan visits?"
There's no doubt, this hurts Syracuse. For an already tight SU-RU recruiting war, how many kids will opt to play in the Big 10 on ESPN and ABC every week vs. the Big East?
Remember the days when the NY market was undoubtedly colored Orange? When Rutgers went 1-10 every year? When SU sold out East Ruthrford in the Kickoff Classic?
Who will the Big East try to poach to stay alive as an already shaky football conference? East Carolina? UCF? Marshall?
Will the New York market become more Rutgers-saturated because of its Big 10 affiliation (a place the doctor has tried tirelessly to brand as SU's)?
Whatever. Go enjoy Snookie, J-Woww and the rest of the Jersey Shore fist-pumping at the Iowa tailgate. Have fun at the dilapidated RAC when Northwestern comes to town. And let us know how two basketball bids annually tastes in the NCAA tournament.
What the HELL is going on? The Big 10 wants Rutgers? I need to lie down.
(adsbygoogle = window.adsbygoogle || []).push({});