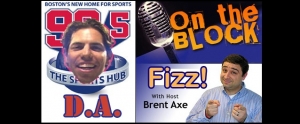 Alway fun to light fire to some couches in our favorite neighborhood, "On the Block."
Our good friend Brent Axe invited D.A. down to drop some knowledge on the Boston College hiring of Steve Donohue, Yankees-Red Sox and the new-look Fizz.
It's a devastating combination – like two of the 'hood's street gangs, teaming up to shake down the 5th graders for all their money and Snackwells. Nice.
Listen to D.A. on the block with Axeman.
On the firing of Al Skinner at B.C.:
"It's a little like the McNabb situation in Philadelphia, where they've had a ton of success – you're not gonna have as much success with the new guy, but you know it's a marriage that has to end."
"Skinner is vulnerable without the assistants under him recruiting for him. I don't know if Donohue to match what he did. But I do think it was time for him to go."
The general snoozefest around Eagles hoops:
"When they didn't have the Big East tournament to go down to. When you don't have the regional rivalries with Syracuse, UConn, Providence. There's some apathy surrounding the program. When Clemson comes to town, nobody cares."
The brand new site with all the kazoos and Froot Loop necklaces?
"We kinda outgrew the old site. It was like having a one-bedroom apartment that we kept building additions onto. We're pretty fired up about it. If you think it totally sucks, just blame it on (Ted) Conroy."
(adsbygoogle = window.adsbygoogle || []).push({});