Posted: Mike Couzens
It took Rutgers a college basketball eternity, but the school finally named a head basketball coach.
Mike Rice, the former head coach at Robert Morris, will take over as the man responsible for cleaning up Fred Hill's mess.
After Hill's resignation on April 19th, Piscataway had been without a captain at the helm of its basketball ship.
What type of disaster is Rice inheriting?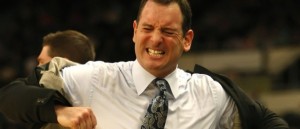 "With the transfers of sophomores Mike Rosario (Florida), Greg Echenique (Creighton) and Pat Jackson (undecided), the Scarlet Knights will have just eight scholarship players remaining on the roster. That includes two incoming freshman who signed under Hill, 6-8 forward Gilvydas Biruta of St. Benedict's Prep and 6-3 shooting guard Austin Carroll of Brewster (N.H.) Academy."
So that essentially leaves Rice with six players who are even theoretically Big East ready.
Quick Poll. More enticing job to take: POTUS after George W. Bush or Rutgers hoops after Fred Hill?
If you chose neither, that's the correct answer.
But what should raise the eyebrows of all Big East coaches, is that Rice is slightly crazy according to Steve Politi of the Newark Star-Ledger:
"Mike Rice is a bit nuts, which is understandable. He is, after all, signing on to become head basketball coach at Rutgers, a job that has killed more promising careers than Jay Leno."
Zack Morris Real Life Timeout: Uh, Steve Рdid you see the White House Correspondents Dinner? (Hint: Leno sucked.)
But the larger point Politi makes is that Rice has the key intangible that has been missing at RU for so long: passion.
"Rutgers fans will love that side of Rice. Hill had become disconnected with the fan base in his final season, but Rice went out of his way to engage the fans at Robert Morris. After the near miss against Villanova, he brought his heartbroken players to a spot on the floor where they could give those fans a standing ovation.
"Mike Rice would be a good candidate for any job," Villanova coach Jay Wright said that day. "He's got great passion. He's a great teacher."
So while Rutgers may still be a bad team, and have bad facilities, and a pretty desensitized fan base – it still has one ingredient that can get them back to respectability.
The location. Rice is a solid recruiter with great ties to the area. He's got the support of high school coaches (a very undervalued aspect of the recruiting game), but not much time to work this year.
Good luck Mike Rice, please try to put someone on the floor that Syracuse won't posterize next season.
(adsbygoogle = window.adsbygoogle || []).push({});