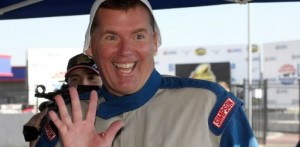 First of all, let's just get one thing clear. This picture is not doctored. It is absolutely Randy Edsall. This is a photo taken in North Carolina at the Richard Petty Driving Experience and was run by the York (PA) Times. Look it up. May be the best thing that's ever happened to the Syracuse blogosphere.
Secondly, this scene would never happen anymore. Thank goodness the Groobers Disaster is over. My blood pressure is rising and skin crawling from just one glance at that clown. Sure, Doug Marrone is going to shake hands. But Groobers looks like Edsall just agreed to tickle him in the bath, then bring him to go see Toy Story 3.
So, UConn has set up "the car wash" for Edsall on every ESPN platform this Thursday. Reason enough to slice your cable feed with pipe-cutters and smash your television with a sledgehammer. This is the actual itinerary via the UConn athletic department. It's amazing the SIDs have time to do this as the basketball program smolders with the NCAA's compliance blow torching.
10:50 a.m. – Appear on First Take with Jay Crawford, Dana Jacobson, Jay Crawford and Reischea Canidate. Jay Crawford's name is listed twice to remind everyone the show is still on. Cold Take? First Pizza? Skip Bayless argues "If Edsall starts the season with a few losses, Jim Calhoun should ABSOLUTELY take over the head coaching duties!" as the 2 Stews look on in horror.
11:05a.m. – Interview with SportsCenter.com. This is the first of multiple ESPN platforms I didn't even know existed.
11:20 a.m. – Interview With ESPN Rise. Edsall will try to distance his recruiting habits from the basketball program's. Hope he mentions Jonathan Fisher. Burn.
11:40 a.m. – Appear on The Herd with Colin Cowherd on ESPN Radio, ESPNU and ESPN.com. Colin invokes puke-inducing diatribe about building the UConn football program brick by brick. Compares Edsall to Bear Bryant. Twice.
1:00 p.m. – ESPN.com chat. Dan in West Hartford: "Describe the gameday atmosphere at the Rent and how you plan on improving the fan experience." Edsall: "You tell me. Go buy a ticket."
1:20 p.m. – Interview with ESPNW. And that would be….? ESPN Women? ESPN Woodchucks? The Ocho?
1:40 p.m. -  Appear on ESPNU. Jesse Palmer asks if Edsall's goal is the Big East championship game.
2:10 p.m. – Appear on ESPNews Kevin Negandhi asks Edsall to list the toughest places in the Big East to play. Edsall answers, "Our place. Am I done?"
2:40 p.m. – Radio interview on 1250 ESPN Radio in Pittsburgh. Because nowhere is Big East football fever hotter than Western PA.
3:10 p.m. – Appear on the The Scott Van Pelt Show on ESPN Radio. SVP asks Edsall to compare The Big East schedule with the back nine at Torrey Pines.
3:30 p.m. – Appear on College Football Live with multiple airings on ESPN and ESPNU. Edsall dons flame -retardant suit and blue bonnet while waving at camera like a 6-year-old girl in preparation for a "really fast car ride!"
Posted: D.A.
(adsbygoogle = window.adsbygoogle || []).push({});