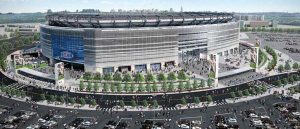 After SU's announcement of another three-game series against historic rival Penn State, the natural reaction from Orange Nation is: "Great, but we hate New Jersey."
To lure in the Nittany Lions, the Orange had to cough up the New Meadowlands – and we're developing a there here.
The Orange will play USC on September 8, 2012, Penn State in 2013, and  Notre Dame on September 27, 2014 and September 3, 2016 Рall in East Rutherford.
Give Dr. Gross a smiley face sticker for this one. The Syracuse football program is a national afterthought today. For any of these three perennial Top-15 programs (although USC's sanctions and Notre Dame's coaching upheaval makes that a little cloudier), traveling to play a Bottom-100 football team makes little to no sense.
Sure, all three programs would enjoy getting an easy BCS win when the Orange came to town – but being led to slaughter in L.A., South Bend and/or Happy Valley doesn't quite do much for your fan base without a home date in return.
(The Fizz realizes USC may be down to two scholarship players by 2012 and with the ever-changing college football landscape, by 2016 Notre Dame may play in the NFC East and Syracuse will be an independent. Bear with us.)
The benefit to scheduling these powerhouses is two-fold: 1) You're nationally relevant for a week – much more so than taking on Pitt or Akron. Sell that to advertisers, donors and recruits. 2) Your fan base can get excited about a home game – much more so than hosting Louisville or Maine.
Unfortunately, the only way to pull this off until Syracuse is able to build a Top-25 and bowl-worthy program is to use the Meadowlands chip. USC, Penn State and Notre Dame either have alumni in the NYC region or get wet over the idea of the exposure from the nation's largest media market.
Luckily for Syracuse, the alumni concentration is highest in the tri-state area and it's still only a four-hour commute from CNY for those who want to make the drive. So for now, Gross has to leverage home dates for a neutral site Garden State road trip if he wants to reap some benefit to series against the college football big boys.
In the "which football program means less in NYC" pissing match with Rutgers (with Big 10 Network importance being the carrot), it also doesn't hurt to have a slew of high-profile games against college football's power brokers in the shadows of the Manhattan skyline.
Get used to it. The Orange is doing it Jersey-style for the next six years.
Posted: D.A.
(adsbygoogle = window.adsbygoogle || []).push({});