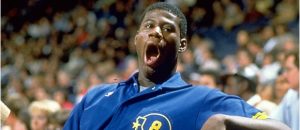 The talented Marc Spears of Yahoo! Sports dropped a college basketball bomb on the web this morning, with a powerful piece on NBA washout Chris Washburn.
It's not as though basketball fans aren't at least slightly aware of his cautionary tale. The #3 pick in '86, the Golden State big man was out of the league with a life riddled by drugs just three years later.
But Washburn's account of his college recruitment process also serves to raise antennae.
"The basketball program at N.C. State, Washburn said, was among his biggest enablers. He had poor grades in high school, but that didn'Äôt worry him. Nor did having to take the SAT.
'The coaches over there told me, 'ÄòYou already signed, you'Äôre already in school, you just have to take the test just to get into college. When they told me it didn'Äôt matter what score I was getting, I went in for about 22 minutes. I just marked down [answers] 'Ķ mark, mark, mark.
'If the coach told me I needed 700, 800 on the test to get to school, I could'Äôve got that. But when they said I didn'Äôt need it, I didn'Äôt need it.'
Washburn scored a 470 out a possible 1,600, barely above the minimum. Subsequent news reports about his poor score helped spur the NCAA to raise the minimum standards for athletes to gain admittance to college."
It's evident that college recruitment is no longer the Wild West that it was 20-30 years ago. Stories like Washburn's abound from the 70s and 80s. But it should serve as a blinking light for us today: Does this still happen?
Today, the minimum core grade point average is 2.0, a 68 on the ACT and 820 on the SAT. Washburn was allowed to play with the Wolfpack with barely half that SAT number. So, clearly modern restrictions are tougher for the student-athlete.
But there is no shortage of recruiting violations today. UConn has been nabbed. Kelvin Sampson's toxic touch left Oklahoma AND Indiana picking up the pieces. USC has been rendered bowl-free for two years.
But note that all of the above sanctions came because of overstepping regulations in contact with the player. We're not seeing schools punished for pushing kids through or unfairly admitting them – we're seeing illegal contact, calls and text messages with high school athletes.
Can Washburn's case happen today? Of course. Student-athletes didn't all of a sudden become more academically inclined than 20 years ago. So why don't we hear about these types of violations?
Programs are finding JuCos and prep school clearing houses to massage athletes grades and scores. Hard to flat out fake an SAT or ACT score. But GPAs? Course requirements? Schools, AAU programs and other power brokers are funneling kids to basketball or football factories which have no real purpose other than "creating" an athlete's academic portfolio.
Mike Williams' year away from Syracuse is a good example. Springfield (Mass.) Technical Community College afforded Williams a chance to (ahem) rectify his grades after getting nailed on the Academic Integrity Policy.
The days of Chris Washburn showing up to an SAT test, filling in his name, blindly scribbling a few answers and playing the next season in a power conference without any resistance are probably over. But don't be naive. Kids aren't any smarter than in 1986, but because of the stratospheric money in college athletics, schools absolutely are.
Posted: D.A.
(adsbygoogle = window.adsbygoogle || []).push({});