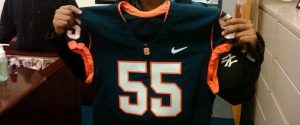 It's become an annual CNY rite of late summer. Area farms preparing for apple-picking season. University dorms being cleaned for incoming freshman. Syracuse unveiling its new football uniforms.
Like many in Orange Nation, The Fizz is jersey-obsessed. Colleges have piggy-backed off the pro-model, realizing new streams of revenue for every jersey change, logo tweak. The Orange, however, have taken this novelty to new heights.
Darryl Gross has attempted to squeeze money out of every rock in his five years at the helm – and some of his early misguided ideas earned him the nickname "Dr. Doom" around these parts. The orange-orange-on-orange football uniforms were historically hideous, as though someone had dipped Andrew Robinson into a giant vat of carrot juice.
However, Nike should not be allowed off the hook in this recent mess. The most recent tweaks to the basketball uniform have the idiotic paw prints of Beaverton, Oregon all over it and we here at The Fizz crucified them (a shadow of the Hall of Languages on the back? Wretch).
However, instead of a Gross press conference to announce the new changes (and an addendum mentioning they were now on sale at the University Bookstore), our jersey Paul Revere has alerted us all of the '10 version before the official launch.
Averin Collier Twit Pic'd the world Syracuse's newest changes… and the verdict is: they're pretty slick. The biggest alteration is the elimination of the shoulder stripes, which actually worked pretty well in the most recent vintage. However, we had known for awhile SU would push for a look more reminiscent of recent Dome success.
Not only had Doug Marrone and his old-school 'Cuse sensibilities taken over, but there has been a groundswell from Orange Nation supporting the McNabb-era unis. They weren't as noisy as the current ones and reminded everyone not all that long ago, we were pretty good.
The orange outline around the numerals is a little bolder than last year's version, the 90's tacky shadowing of the numbers did not make the revision (which is good). There is no thick orange/white striping around the collar and sleeves like the McNabb unis, but the thin orange piping adds a modern twist.
Add this to the orange helmets with the blue block "S" (which we like here at The Fizz), and clean orange pants with a singular blue stripe down the leg, and the Orange uniforms may have finally (after a half-decade of occasional wretchedness and constant tweakage) found a happy home.
So far, so good. Now don't mess it up.
Posted: D.A.
(adsbygoogle = window.adsbygoogle || []).push({});