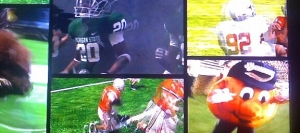 If you were strapped down, held beyond your will, and forced to endure the annual sports-celebrity-fame orgy known as ESPYs last night, there were few highs, many lows.
Among the innumerable moments of queasiness was Brett Favre's smugness factor at an 11, Chris Bosh's annoying giddiness level at a 12, and "why can't Jon Barry get swallowed by a sink hole?" desperation at a 13.
To be fair, Erin Andrews was expectedly on fire, Seth Myers sports-centric monologue actually had a handful of laugh-out-loud moments and Michelle Beadle's dress was… ahem… niptastic.
Oh and one more thing: Syracuse football made the EA NCAA Football '11 commercial.
Say what?!
Tim Tebow was predictably barf-licious on a night that fused ESPN with Hollywood (we can only hope Teeb's first 17 NFL throws are interceptions next season), and also graced the cover of this year's game.
Shots of Stanford and John Elway, Michigan and Desmond Howard, Tebow's Gators began filling up the screen. And prominently displayed at the bottom-right corner? Otto.
We made the big time, mom!
So one of the 14 million Newhouse grads in the media biz edits the EA commercials and slipped it in (thank you)… or Syracuse football is still relevant because of our oversized anthropomorphic fruit mascot.
Either way, thank goodness.
Posted: D.A.
(adsbygoogle = window.adsbygoogle || []).push({});