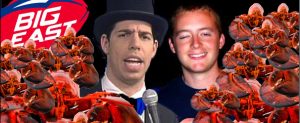 For the first time ever, Team Fizz will be covering Big East Media Days in tandem.
D.A. (complete with top hat) and Teddy Conroy are lurking in Newport, Rhode Island – site of the sh*ts and giggles that accompany the annual conference media gathering.
Media Day Fizz
2:15p: For those in CNY, I'll be joining Danny Parkins who's handling a marathon day on 1260 at 3p to discuss Media Days and how many lobsters Ryan Barthalomew ate last night. You can listen online as well if you're of the 315. – D.A.
1:58p: Posted – Ted Conroy
Newport's Hotel Viking (site of the Big East media Q&A), has produced plenty of generic answers.
"I'm really excited about our team."
"Gained weight."
"Lost weight."
"Generically engineered soundbite."
But if you dig a little deeper, the individuality of the coaches in the Big East began to stand out.
One: Skip Holtz is a really cool guy.
With the best respects for Doug Marrone, who the Fizz thoroughly believes in, Skip Holtz will be a fun, entertaining addition to the Big East as he gets going with South Florida, and would have been a media dream in the 'Cuse.
He cuts through the normal BS and gives you straight answers. I asked him about the Post-Leavitt fallout for the Bulls and he responded openly and honestly about a "healing process" that needed to take place, and how he is taking his team away from campus to do more team bonding exercises when camp opens up.
Two: Charley Strong is very quiet.
As gregarious and outgoing as Skip Holtz is, Steve Kragthorpe's replacement is damn near mute. He had the the emptiest table in front of him and jacking up the volume on the microphone was a must if you wanted anything out of the new man on the Cardinals campus.
Three: Dave Wannstedt is a playa.
For two days of Big East football Wannstedt proved to be cool as sh*t. He showed up to Newport National yesterday, and greeted whoever made eye contact with him. At the clambake, he wore a casual button down and looked chill as hell while sipping a drink. At the media session today, he kicked his chair back, put his feet on the table legs, and enjoyed his day. This is a guy who by all means could be an assh*le and "above" college media because of his NFL experience, but I had a brief chat with him in the lobby as I was writing this post, and he just seems like a people person.
Four: Greg Schiano is a smart, down to earth guy.
This is painful, and it might put me in purgatory with Orange fans, but this guy gets it. When he spoke of Joe Paterno, he brought up history and numbers that only the rarest of media geeks should know. When he discussed Rutgers, he seemed to have a plan for everything. And as for recruiting in Florida and against Syracuse, there's a whole window opened that will be expounded upon here at the Fizz Thursday. Syracuse fans can hate him; they have the right to. But respect is a word I can use in the same sentence as Rutgers. I think I just threw up a little in my mouth
Fizz Notes: Posted – D.A.
2:10p: FizzCasts locked down this afternoon: Mike Holmes, Rob Long, Derrell Smith, Ryan Barthalomew, Doug Marrone, Randy Edsall, Greg Schiano, voice of the Orange Matt Park. That's more productive in one afternoon than the Fizz has been all year. FizzCasts will be uploaded as we make our way through the week.
Towards the end of lunch, the curtain dividing the media room and the dining area came crashing down. Fizz Friend Pete Thamel of the Times shouted to the Commish, "John, hopefully that's not a metaphor." Brought a good chuckle from Marinatto. Let's hope it's just a joke.
Coaches were implored by the Commish not to talk of conference expansion or school movement. So, we didn't get confirmation from Charlie Strong whether Louisville was looking at the Sun Belt.
9:22a: Getting ready for the Commish to speak. Opening remarks will include how the Big 10 is not a threat. We repeat, the Big 10 is not a threat.
Cincinnati and Louisville among a handful of schools which did not produce a full, color media guide. The 'Cuse has. SU sports information department declares victory!
The USF media guide is titled "A Holtz New Era." That's some "Bull" sh*t pun.
Media days are always fun because of the awkward mix of crusty old sports writers and student media. They're a lot closer than they think: everyone's here because of the free food.
Fizz note: I still feel a lot closer to the student media, but I've been without my SUpercard for nearly a decade and I'm wearing khakis right now, so maybe I'm delusional.
Greg Schiano looks constipated. As though he'd rather be mixing dry wall in Oradell than shmoozing media-types. In fact, he'd probably rather be shmoozing dry wall.
Rob Long is the only Syracuse player not wearing a suit jacket. Hey give him a break. Nobody tells punters how to live!
I just want to reiterate, apparently Newport, Rhode Island is now the heart of Big East football country. Why? It's nicer than Piscataway, Morgantown and Storrs.
9:38a: Commish is truly a nice guy and says all the right things. But "dynamic, will never be found on his Wikipedia page. More of a meat-n'-potatoes guy. Maybe that's what the Big East needs right now. With more lobster.
Commish says Big East is stronger today than ever before in its history. In other news, Horatio Sanz is getting a Playgirl spread and BP has won the 2010 Eco Friendly Award.
Commish just listed the conference bowl schedule. The Big East bowls are SICK. Beef O'Brady Bowl, Car Care Bowl, Pinstripe Bowl. Suck it SEC.
9:56a: Just sat down with Doug Marrone for a one-on-one Fizz exclusive. Will try to get that posted later this evening, at latest tomorrow. Says he doesn't know whether Delone Carter will be a member of the 2010 Orange, that it's in the judicial process right now and resides with university decision-making.
* * *
We'll be tweeting and posting continually. So keep refreshing The Fizz and follow our Twitter feed. It's one big lobster, football and blogging casserole! Mmmm…
(adsbygoogle = window.adsbygoogle || []).push({});