Listen to Randy Edsall discuss the Syracuse rumors: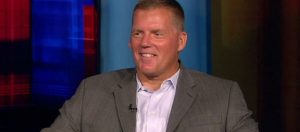 Randy Edsall is a Syracuse grad. The Orange has needed a head coach. Edsall is a very good one. Therefore, hysteria has ensued.
The timing of SU's football swoon has been mighty unfortunate. Rutgers has surged and cornered the market on all those New Jersey athletes Syracuse once owned. The Big East has been extraordinarily wide open and winnable, proving lost opportunities on BCS money. And UConn has become a player in D-1 with an Orange plucked from The Hill.
So the final years of the Groobers Terror and the eventual coaching search caused annual caterwauling over why Edsall would not just come home. To his credit, Edsall never engaged in discussing the opening nor used it as public leverage for a better deal at home. Maybe that's because even a program little more than a decade old is (shudder) a better job than Syracuse. Maybe he's actually happy in Storrs. Maybe he understand he's just sitting on a lottery ticket he can cash in for a Big 10 or ACC job down the road.
For Syracuse fans, Edsall's dismissal of the overtures and emotional detachment from his alma mater is stupefying. He  carries himself with an arrogance and even a pinch of disdain for SU. He makes an easy target and an obvious villain. But I always wondered what his mindset was when dismissing the Syracuse rumors. His business-like answer underscores how little connection he seems to feel toward his old school. I asked him at Big East Media Day how he balanced respect for potential employers with his current one.    
"You can't control any of it. All I can do is control is what I have and that's trying to get our team the best we have. If you do a good job, just like in any profession people are gonna speculate. No sense to comment on speculation."
"The best thing I can say is that I've been at UConn for 12 years and there's only six coaches who have been at their respective schools more than I've been. I think that shows the loyalty. I can't control what people say. If there are opportunities that come, you have to sit down and look at them and look at what's best for you and your family. I've shown what's best for me and my family is the University of Connecticut."
Can the public tugging on your cape to ride in and save the day be a distraction?  
"I don't know. I'm a pretty humble guy. I'm a guy that doesn't get all caught up in that. My thing is, when people say things Рlike I tell my players Рif you start taking all the pats on the back and drinking all the poison, you're gonna kill yourself. So I just don't drink the posion and I don't like to take the pats on the back. You've gotta proves yourself every day. When people start saying things, if you start drinking the poison you'll kill yourself. That's what I tell my players. I just try to practice what I preach."
The antithesis of humility is telling people how humble you are. However, Edsall can afford to have some swagger these days. He's taken a program from the A-10 to perennial bowl team and a dark horse to get to a BCS game. Hopefully, Marrone is the right guy for the job. Because you get the feeling Randy Edsall has no use for the 'Cuse.
Posted: D.A.
(adsbygoogle = window.adsbygoogle || []).push({});