Listen to the FizzCast with Anish Shroff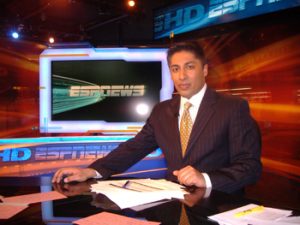 In this era of a breathing, heaving blogosphere impatiently waiting to imbed a YouTube video on its site, Anish Shroff's innocuous gaffe became internet mainstream.
The ESPNews anchor melded "Shea Stadium" and "Citi Field" on-air during a Mets-Cards highlight and mistakenly called it, "Shitty Field."
Anyone who has been to Flushing recently knows – the team itself is definitely shitty. The stadium, however, definitely not.
The SU grad and FizzCast regular spoke to D.A. about the slip that made him sports blog king for a day.
"I called the Mets, it's a beautiful ballpark, it's a great organization. My superiors hinted at calling and I kinda agreed with them. I told them, 'unintentional slip up.' But it's funny how some people take these things. I didn't even know I said it. If I realized it, I would have said something at the time. I had no idea."
How much grief have you gotten?
"ESPN, we end up on Deadspin enough. I wish I could say, 'I meant to do this.' I can't go back in time. You just have to live with it, laugh about it."
We couldn't let him go without a 2010 SU football preview.
"Why did we fire Paul Pasqoloni? The consensus was, 'we shouldn't be a .500 team.' This is a team that should be competing for a conference championship. Now, we're talking about 'if only we can go .500!'"
(adsbygoogle = window.adsbygoogle || []).push({});