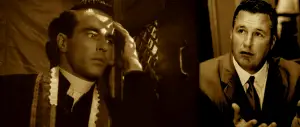 Forgive Doug Marrone if he's losing faith in the powers above these days.
"I don't think we deserve some of the things that are happening right now. We need everyone. We really can't afford to have any injuries."
The Orange has lost a bulk of the team to injuries, some of which are season-ending. Marrone is also waiting as the NCAA picks through transcripts to see which incoming Orange is eligible.
Marrone was already teetering on insanity when the latest 1-2 punch was delivered to the Carrier Dome. Nose tackle Ollie Haney tore a muscle in his chest which will require surgery. He's done for the year. Eighteen players did not practice Monday, including free safety Phillip Thomas, who had to have a wisdom tooth extracted.
"It's unbelievable. It's like every day. I've lived my life well. I've done a lot of good deeds. I'm hoping somewhere along the line it starts to pay off."
Where's Doug's support group!? We're losing him, people! Those also lost for the season to injury include fullback Carl Cutler, tight end Cody Catalina, receiver Jarrod West, defensive end Jared Kimmel and cornerback Ri'Shard Anderson, who injured his right shoulder last week and will need surgery.
Ineligible are defensive end Jason Bromley, linebacker Malcolm Cater, and defensive back Keon Lyn, who are all sitting while the NCAA checks to make sure they're eligible to play.
Dougey, just remember: No matter what small transgressions you've committed in life (faked sick to avoid jury duty, lied about Syracuse's weather to Max Beaulieu's mom), you're still up for Sainthood within the Big East's coaches circle.
Schiano's deal with Lucifer to turn around Rutgers will eventually land him in purgatory. Edsall's hubris has the dieties already grumbling. You have any idea how much evil resides in Wannstadt's mustache? You think Dion Lewis WANTS to live in Pittsburgh? And don't get us started on West Virginia. Someone go poking around to see how the Mountaineers landed Eugene Smith and Noel Devine.
You're a good man, Doug Marrone. Unfortunately, sometimes bad things happen to good people.
Posted: D.A.
(adsbygoogle = window.adsbygoogle || []).push({});