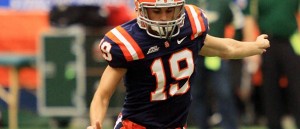 Not surprisingly, the SI.com Big East preview yesterday was underwhelming. Stewart Mandel and Andy Staples used their 1:45 video not to discuss how the conference will be won in '10, but instead to ask the question: Can a Big East team play for a national championship?
Mandel believes only schools with tradition like West Virginia or Pitt could be invited to compete for the title (soooo you're saying Syracuse has a chance?). Debbie Downer Staples suggest no one in the conference gets that respect from the voters.
"I think even Boise State would get in over a Big East team."

"The upshot is, wait for basketball season"
Thanks for that smug insight boys.
But the real kick in the teeth for Orange fans was in SI's photo gallery for their preseason All-Big East team. Not so surprisingly, no Syracuse player was selected to the offense or defense.
Predictably, standout Rob Long was named the league's best punter. Unfortunately, the photo SI.com decided to run for Long was of Ryan Lichtenstein attempting a field goal while the punter held.
Thanks Sports Illustrated. Next time try to make sure some stoner summer intern from Stony Brook isn't the one sifting through the digital photo archives for your galleries. We appreciate the effort. Maybe they could just post the Boise State kicker instead.
Posted: D.A.
(adsbygoogle = window.adsbygoogle || []).push({});