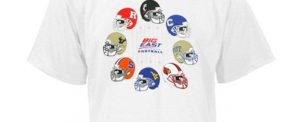 Rivals.com has released its Big East predictions with its so-called experts. Will come as no surprise that Syracuse did not get a vote to win the league (although, the Orange was also not named to the "Biggest Disappointment" category).
For the most part, SU was invisible on the 2010 prediction tally for the conference… except for "Ugliest Helmet."
The Orange was the only Big East school with more than one vote in the category. Tom Deinhart and Mike Huguenin both selected SU as the ugliest helmet. Other votes went to Cincinnati, USF and UConn (hey, at least we won something, right?).
Clearly Deinhart and Hugwunnyheen did not study at the fashion institute in Paris. How does a single-colored helmet with a block "S" on it qualify for ugly? Cincy's "C" morphing into a bearcat paw is ridiculous. USF is the only school with two different helmets; both gold and white versions with the green bull-horned "U." Maybe the Bulls should be docked for inconsistency. Pitt's helmet is a throwback to the old-school Tony Dorsett/ Dan Marino/ Hugh Green days – but not before the identity crisis late-90s version, when the school wanted to avoid being called "Pitt" and opted for "Pittsburgh" with the scowling ghoul cat. How about the Panthers marked down for identity crisis?
The obvious choice for worst helmet is obviously Louisville. It's not even a fair fight. A bug-eyed Looney Tunes-version bird, gritting its chompers? Do Cardinals even have teeth?  The helmet stripe also angles to a point. Throw in the red face-mask and Steve Kragthorpe's offense is the only thing more hideous in the history of Papa John's Stadium.
Hey Deinhart and Huguenin: "S"uck it.
Posted: D.A.
(adsbygoogle = window.adsbygoogle || []).push({});