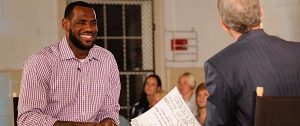 One year ago, Orange Nation was holding its breath over the Class of 2010's potential. Nevermind C.J. Fair, Fab Melo, and Dion Waiters were already on board, there were a couple of prospects left.
There was the seemingly endless recruitment of Josh Selby and Brandon Knight, both ending in heartbreak.
And then there was Tobias Harris and his grandstanding. He chose Bruce Pearl right in Syracuse's backyard, and got booed in Manhattan.
So where are all these self-absorbed recruits in 2010? The phrase "taking my talents to South Beach" could have changed the way high school recruits go about their business.
Just check out Scout.com's class of 2011 boards. Everyone has made their decisions, including 9 of the top 10 kids in the class. Not to mention big man Rakeem Christmas for the Orange.
Is there a connection here? LeBron made himself look like an idiot in front of millions on TV. He turned everyone off to him with a contrived presser. To be fair, Torrel Harris did the same thing when he put Tobias on a stage to disappoint fanbase in New York City.
What high schooler wants that on his resume this early in life? You can already see the conversation between Doc and Austin Rivers.
Doc: "Son, have you decided where you're going to school?"
Austin: "Yes, Dad I want to go to Duke. Can we hold a big party, invite ESPNU and not announce until the last minute?"
Doc: "Yeah, and while your at it you can be served drinks from a fairy on a zip line and then also quit when your team needs you most. Shut up and call Coach K."
Austin: "You're right. Hey, KG can you teach me how to concuss myself against the side of the hoop?"
The point here is reps are on the line now. It has been cool to keep everyone waiting until the 11th hour. Now it comes at the expense of your honor and word. In this day and age, who knew that would come into play?
Maybe the landscape is changing. Or maybe Coach Cal et al. just went COLA on his recruitment package. It's entirely possible.
Written in honor of Parisa P. RIP.
Posted: Ted Conroy
(adsbygoogle = window.adsbygoogle || []).push({});