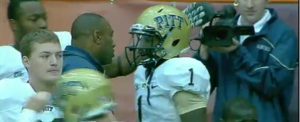 Pathetic. Embarrassing. Apathetic.
All adjectives used this week to describe the so-called Syracuse fans who dared not snap up tickets to Saturday's game.
The invective that flew from critics towards the non-purchasing public this week was historic. Not because we had never seen it before. No, the mystery of why CNY has always been a bit hesitant to jump on the football train is long-standing.
The history stood as the first time in the brief Doug Marrone Era that the public was expected – no implored – to support this football team.
Was the USF victory really a turning point in the program? Or merely a road win over a feeble team undergoing a messy coaching change? (Thursday night's dismal loss to West Virginia certainly didn't help the Bulls rep.)
Fact is, from jump street today Pitt was the better squad. The Panthers wide receiver screen which turned a short gain into a length-of-the-field touchdown gave Pitt a 7-0 edge before most fans had even found their metal bench.
It looked like a game when SU answered with the scoring drive shortly after, but by halftime it was obvious. Our Little Orange Engine That Could was not the Cinderella surprise of the Big East. 28-7 at the break and Pitt was firmly in control.
This is why it was impossible this week to criticize the fans that decided to take a wait-and-see approach. Yes, last week was the first bright ray of light in over five years for this program. But you couldn't blame a ticket-buying public that has other things to worry about (credit crunch, housing bubble, slow economy) for not spending time and money to support this squad.
We're all a little gun shy about completely embracing this team just yet. They're clearly headed in the right direction. But Saturday proved it's too soon to act as though the Orange has arrived. The fans that stayed away were validated.
Posted: D.A.
(adsbygoogle = window.adsbygoogle || []).push({});