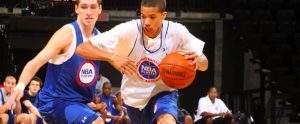 As usual, The Fizz has been all over the recruiting scene for you this semester. We had Trevor Cooney's official commitment, spoken with Michael Carter-Williams on the FizzCast and lauded the Murphkins team on acquiring Rakeem Christmas, a Top-10 center for the class of '11.
So when early signing period arrived last week, we had our ducks in a row. Michael, Rakeem, and Trevor.
Jim Boeheim threw us a fastball yesterday.
The official press release came out, and everyone was stunned when Michael Carter-Williams wasn't on the list. Had he dropped his verbal? Was he waiting for the late signing period?
We may never know. But fear not, Orange faithful. Murphkins covered it's losses with "Marcus Carter-Williams." Any questions, direct them to Google's Cache. Mistaken identity causes internet chaos.
According to Marcus' Facebook page, there's nothing there. He keeps his page private, but I'm pretty sure he's thirty years old.
Michael, however, is ranked the #16 recruit by Rivals.com. In fact, by hauling in both Mike and Christmas, the Orange grab two of the Top-20 commits in the nation.
Jerry Meyer of Rivals gives this breakdown of the two players:
"Christmas is one of the better shot-blockers in the class, runs the floor well and is a solid rebounder. Over the past couple years he has shown flashes of offensive prominence, but he hasn't developed as a consistent offensive threat. If he were to develop into more of a consistent offensive threat, he could very well move into the top 10 in the final Rivals150.

Carter-Williams is a smooth ballhandler and crafty, multidimensional scorer with a high basketball IQ. The key for Carter-Williams being an impact player at the next level is developing his physical strength. Right now he is very thin and it will be tough for him to put up numbers in the Big East as a freshman unless he builds up his body."
In other words, time for SU sports information to get Mike's name right. Could be seeing a lot of this kid in the postgame notes.
Posted: Ted Conroy
(adsbygoogle = window.adsbygoogle || []).push({});