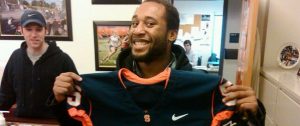 The curious case of Averin Collier has ended. But with it only brings more questions. How does a smart kid, with talent to play at big time football factories, run into academic problems and run off the Syracuse football team before the bowl game?  
"The former schoolboy star at Churchville-Chili High made him a 2007 SuperPrep All-American and the prize of Greg Robinson'Äôs final recruiting class at Syracuse, in 2008.
Robinson's ability to get Collier to sign the dotted line was considered a major coup at the time. Collier's older brother, Kevin, had accepted a scholarship offer from Pittsburgh, and the Panthers were one of 19 Division I teams to offer Averin. Others included Clemson, Alabama, Louisville, Connecticut and Boston College.

Collier said he was initially headed to Clemson, but when coaches there asked him to delay his commitment while they continued to recruit another four-star tailback. That gave Collier pause, and in the end he decided to join CBA wide receiver and fellow four-star recruit Marcus Sales, who Collier had befriended along the way, at Syracuse."
Here's a kid who graduated high school a semester early and had the gumption to enroll at Syracuse early to earn playing time. Yet, Collier was embroiled in academic issues all season forcing him to play only on scout team for the Orange.
Here's a player who was recruited by Alabama and Clemson, yet finishes his SU career with 12 carries for 82 yards - two touchdowns, eight receptions for 74 yards and six kick returns.
So how did we get here? Collier was a free spirit (remember Averin leaked us the new SU uniforms on his Twitter page) and it's possible that never fit with Doug Marrone's structured, unflinching persona. Mike Williams' soap opera has made the program sensitive to academic issues, and Collier probably danced too close to the edge. It's likely a light-hearted, undisciplined player like Collier also meshed perfectly with Groobers, yet had no home once the new regime took over.
Normally, I would lament the loss of a talented player and ask the program to lighten up. With the graduation of Delone Carter, a productive running back would help fortify the backfield. But Marrone has clearly pointed this team in the right direction and Groobers' recruits have little credibility if they can't earn the trust of Douggers. Sorry Averin, but you have been eliminated.
Posted: D.A.
(adsbygoogle = window.adsbygoogle || []).push({});