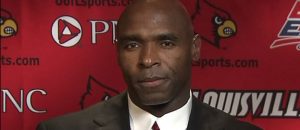 ESPN's latest recruiting rankings place the landing spot for Ishaq Williams in the Top-15 and a Big East rival of Syracuse in the Top-20.
The Irish will likely jump even higher than their #13 spot since the most recent rankings were listed on January 10th, four days before Ishaq committed to play for the Domers.
Despite the fact Notre Dame last won a national championship years before current recruits were even born (the Irish won the '87 title, Ishaq was born in 1992), the allure of South Bend still resonates and Brian Kelley's aggressive nature has paid dividends on the prep trail.
But you may be surprised to learn Louisville's Charlie Strong is making huge inroads on the recruiting circuit and the Cardinals class is currently ranked #19 by ESPN. In fact, UL is the only Big East school in the Top-25 (a group dominated by the SEC, Pac 10 and Big 10).
So far Strong has reeled in 27 signings, three of which are in ESPNU's 150. While the Cards have no 5-star recruits, they have four 4-stars and 18 3-stars. Their top prospect would have to be considered Gerod Holliman, a 6′, 185-pound dynamic safety out of Miami, who chose UL over Ole Miss and Florida State.
Note Strong winning a recruiting battle over the 'Noles for a Miami kid. This is how the Cardinals can get good, really fast. He was a defensive coach at Florida for seven years and an enormous piece of the Gator recruiting dominance over the last decade. He's already taken a flailing UL program to a winning record and a bowl game this season. His ties to the Sunshine State are deep and he's won big recruiting battles in just a little over a year on the job.
What West Virginia had been doing with Doc Holliday (stockpiling Florida talent in the Big East like Geno Smith and Noel Devine), is now a Louisville trait. Plus, Strong is the only African-American head coach in the league and the number for all of D1 is disgracefully low. When Randy Shannon was fired at Miami, a South Florida or East Coast athlete who felt more comfortable playing for a black coach could look at Louisville as one of his only options.
Beyond race, Strong is a smart head coach who has been downright devastating on the recruiting trail. He's also 1-0 against Doug Marrone and the Orange. The Cardinals will continue collecting major prep talent as long as Strong is there, the question is whether he can translate that into wins. While SU will end up having a very promising recruiting class, no one in the Big East is going to touch Louisville February 2nd.
Posted: D.A.
(adsbygoogle = window.adsbygoogle || []).push({});