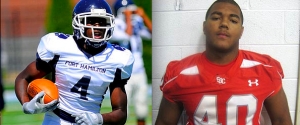 Heartbreaking as it was to lose out on Ishaq Williams, there's a lot of good to be taken from his recruitment. Namely, that SU was even considered by Williams was a huge positive.
As The Fizz's Craig Hoffman explains, competing for the services of Williams was an accomplishment for the Orange – a nice step forward on the program's road back to national prominence.
Listen to a fresh FizzCast on the latest in SU football recruiting:
"It's a process. And that process would be first, get back to contending on the field. Then, contend for big-time recruits. And then the next step, which hopefully would be next year, or maybe later this month if Kevin McReynolds comes to SU, would be signing a five-star recruit."
The proposition of having McReynolds lining up on defense for the Orange next year is an exciting one, given that he's ranked as a Top 25 defensive tackle in the nation by Scout. Hoffman points out that the combination of Syracuse Defensive Coordinator Scott Shafer and McReynolds could be lethal for opposing offenses.
"McReynolds plays the defensive tackle spot, but also has the quickness to move outside. There were a lot of times this year with the way Scott Shafer did things, where you'd see different defensive linemen line up at different spots. So you see a guy like McReynolds who has versatility, and it just gives Shafer another toy to play with."
In case you're still lamenting the loss of Ishaq despite the chance for SU to land McReynolds, I insist that you don't get mad at Ishaq himself.
"Let's hold off on Ishaq. It's his right to go to school where he wants to go, and it's understandable that he'd want to go play football at Notre Dame."
The Fizz has moved beyond Ishaq though, with help from the commitment of Fort Hamilton wide receiver Brandon Reddish. D.A., for one, is encouraged with what Reddish brings to the table.
"That's a huge position of need – that big play wide receiver – that Syracuse just didn't have this year. And so it fills that void, but then also that's a kid that Syracuse just has not been getting. That New York kid, that dynamic skill position guy."
The discussion then turned to undefeated SU hoops, and the misconception SU should get less credit for any game it plays in the tri-state area. D.A. says that's ridiculous.
'ÄúYou can'Äôt tell me that going to Atlantic City is somehow an 'in the backyard'-type thing for Syracuse. It'Äôs not. New York City, granted has a lot of alumni, but it'Äôs still four and a half hours away from campus, and Atlantic City is two and a half hours away from New York City. So give me a break, you can'Äôt tell me that'Äôs home court advantage.'Äù
We also break down how SU has taken care of its last two opponents, St. John's and Cincinnati, so easily (hint: the location of the games wasn't a factor), and how the loss of Kris Joseph might hurt the Orange against Pitt on Monday night.
Posted: Andrew Kanell
(adsbygoogle = window.adsbygoogle || []).push({});