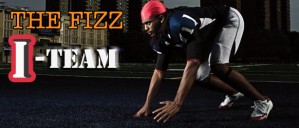 Was Ishaq Williams' dad wearing a Notre Dame hat? Until this point, The Fizz had believed Syracuse's biggest allies in the recruitment of Ishaq were his parents, both SU alumni. Word on the street would suggest otherwise.
Fizz reader Chris sent along this link from Irish Sports Daily, which has its feet on the ground at this week's Army All-American Bowl in San Antonio, where he will announce his decision on Saturday.
The news is not so good.
"One recruiting note: Shaun Williams, the father of Ishaq Williams was once again sporting a Notre Dame hat. I told him he looked good in the green and gold and he just looked at me with a big huge smile."
That is startling. It's the week of Ishaq's D-Day and his pops is rocking an Irish lid?
* * *
The Fizz will have daily I-Team reports all week leading up to Ishaq's decision and be blogging live on Saturday during the All-American Bowl through his decision. Hit us up all week, refresh us all day Saturday and follow us on Twitter @orangefizz.
* * *
Team Fizz isn't ready to sound the Tobias Harris Panic Alarm just yet, but this can't be a good thing. In an ideal world, you'd like to see the 'Cuse alum rocking, well, an interlocking SU hat.
The rest of the report continued to build the Ishaq legend. He was said to have looked the best of anybody on the turf at defensive end in practice that day.
"[He] had a tremendous first practice. He was the most impressive end for the East squad, who is loaded at the position. Williams showed tremendous quickness off the edge. When he comes off well Williams has one of the best first steps in the country. On one inside one play during the inside run period, Williams actually got to the running back as he was receiving the handoff from the quarterback."
This only confirms what we all knew; Williams is the real deal, and is the huge prize on Signing Day to either Notre Dame or Syracuse. The Fizz believes Penn State has been eliminated, but former Orange nemesis Brian Kelly and the Irish are certainly putting up a good fight.
Tick, tock, tick, tock. Saturday creeps closer with a potential turning point for SU football.
Posted: Ted Conroy
(adsbygoogle = window.adsbygoogle || []).push({});