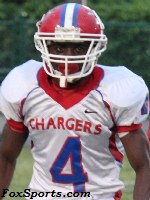 The Fizz just spoke with cornerback Ritchy Desir from North Miami Beach High, as he finished up with a signing day ceremony at his school. Desir said he was excited to become a member of the SU football program.
The reason he committed so late in the recruiting season (January 26th) wasn't because he had trouble deciding on a school. Instead, he didn't want to let any school down by changing his mind and decommitting.
"I just didn't want to make a commitment and back out of it because I didn't feel right."
Desir also told The Fizz he didn't mind coming up north to attend school, even though he's used to the warm Miami weather. He said his great relationship with his new coaches and teammates will make the cold well worth it. He's also happy to be playing exclusively at defensive back for SU, since he had to play quarterback and cornerback in high school. He believes focusing solely on defensive back will help him improve quickly.
Asked whether he's going to find playing time right off the bat or possibly redshirt, Desir was hopeful he would contribute right away.
"I expect to play and get on the field early, but it all goes into how fast I can learn the system."
Posted: Andrew Kanell
(adsbygoogle = window.adsbygoogle || []).push({});