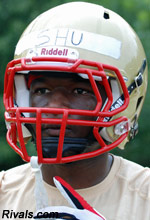 Defensively, the secondary was clearly SU's biggest problem last year. There were corners playing safety, safeties playing corner, and sometimes seemingly no one playing at all. Enter Shutang Mungwa.
Mungwa is a 6'2″, 192 lbs safety from Oradell, New Jersey who was set to head for Stanford. Mungwa didn't get on the Palo Alto campus because of grades. But he always knew this was a possibility and kept in touch with SU coaches.
"I called Coach Shafer and said 'Listen, this Stanford thing is tentative as of right now. I could get denied admission at the end of it. So I just wanted to let you guys know that I wanna keep in contact with you guys. I still wanna keep communications open with you guys, 'cause just in case Stanford doesn't fall out, I'm comin to you goes pronto, ASAP. As soon as possible!'"
Listen to The Fizz with Stanford-turned-Syracuse safety Shuntang Mungwa:
No one can really blame him for wanting to go to Stanford. It's a great academic institution and the Cardinal is coming off a BCS appearance (yes Jim Harbaugh is gone, but Andrew Luck is still there). However when that prospect fell through, the SU coaches, including Shafer, talked to Mungwa at least twice a month. It paid dividends, and Mungwa will wear Orange this fall.
Mungwa also lit up when asked about Shafer's blitz-happy defense.
"His scheme calls for safeties to be very aggressive and very decisive, and I think that's one of my main attributes."
As for his unique name, he's well aware that it rhymes with "Wu-Tang" and people have been coming up to him since grade school dropping lines from the Wu.
Here's to a portion of the Dome being renamed "Shutang's Clan" next year.
Posted: Andrew Kanell
(adsbygoogle = window.adsbygoogle || []).push({});