Listen to Brandon Reddish talk about his commitment to Syracuse:
Syracuse's void at big play downfield threat may have been filled today by Brandon Reddish. The New York City star spoke with The Fizz after signing with the Orange. Fort Hamilton senior who had the question of the day.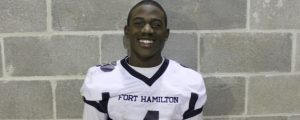 Reddish said he was sold on the family atmosphere of SU and loved the players he met while he was on campus. He didn't really talk with Ishaq Williams or Kevin McReynolds despite visiting the same time as them. But National Signing Day speculation has filtered to the players themselves.
"Did McReynolds sign anywhere?"
Wouldn't we all love to know. Reddish said the connection with the current crop of Orange sold him on the 315.
"Just the players, when the recruits came, everybody just came up, they took us around campus, just hanging out all day."
Reddish says that fellow New Yorker Mario Tull hosted him on his visit, and he also talked to Steve Rene about the process. He wants to contribute immediately to the 'Cuse"s on-field product.
Posted: Craig Hoffman
(adsbygoogle = window.adsbygoogle || []).push({});