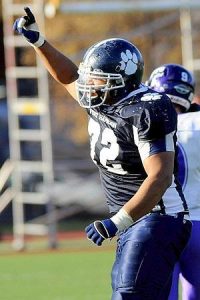 Syracuse already plucked one standout from Fort Hamilton in NYC (Brandon Reddish), why not grab another? Reddish's teammate Ivan Foy is also headed north today. While Reddish woke up this morning feeling great and excited, Foy was incredibly nervous.
"My hands were actually shaking" he said of the moment where he signed his National Letter of Intent.
Foy wasn'Äôt heavily recruited, but is an enormous body on the interior of that line. He already stands at 6'5″, 285. He wanted to go somewhere where he knew he was wanted. He said he knew that place was SU from the moment he got here for his official visit.
"I knew as soon as they (Syracuse) started putting in all the time and effort. They treated me like family. They treated me like royalty. And I couldn't ask for more."
Listen to The Fizz speak with Ivan Foy:
Foy likely won't be a starter next year, but at a position of need, he certainly has the chance to compete for snaps.
"I think what I bring is hard work and dedication. There were many games where I literally had to be carried off the field cause I didn't have any more."
Sounds like a Marrone guy to me. Get that man a bologna sandwich.
Posted: Craig Hoffman
(adsbygoogle = window.adsbygoogle || []).push({});