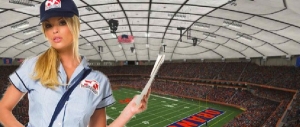 As difficult as it is to admit, Orange fans were like everyone else this week – in awe of Kemba Walker. The UConn assassin put on a show unlike anyone ever in Madison Square Garden history. Five games. Five days. Against four Big East teams and DePaul. Five next-level performances. This year's tourney will forever be known as Kemba's Moment.
The closest resemblance to Kemba's work was G-Mac in 2006, but with all due respect to McNamara, Walker'Äôs performance was far more impressive if for no other reason than the marathon amount of games he had to play.
After the loss to the Huskies, the focus of our post-game FizzCast was what went wrong for Syracuse. Despite the fact that Conroy was in attendance calling the game for WAER, at least one reader wasn't impressed with our breakdown.
"Clueless analysis. Joseph was abused by Lamb. His defense is AWFUL. This team has no leadership. Joseph is one-dimensional. Scoop makes too many bone head plays. Missed free throws were not difference. Missed defensive assignments and poor shot selection was difference." – Al
Harsh, but to a point, fair. These are the same gripes that have been present with SU all year. At this point whining about a lack of leadership is pointless. We get it. However, if you think Kris Joseph is bad defensively, you are horribly spoiled. Yes, he misses his fair share of assignment, but part of defense is finishing possessions with rebounds and Kris has had some clutch boards, finishing with 9 in the loss.
More importantly, how in the world can you say missed free throws weren't the difference? SU has been plagued throughout its history by failure at the charity stripe (see Final Four, 1987). If Syracuse hits them, the game may have never gotten to overtime.
It's apparent if Syracuse wants to make a run, Scoop has to be way more efficient. Fun stat for you to chew on – only one player has had 20 shot attempts in a game so far this year for the Orange. Not Triche (high – 16), not Kris (high – 19 on Friday), but Scoop. And he'Äôs done it twice. That'Äôs not exactly what you'Äôre looking for out of your point guard. Also a huge problem on Friday, he had just one assist. That'Äôs not gonna cut it either. SU is never in overtime if Scoop doesn'Äôt hit a couple of HUGE shots, but at the end of the day, Scoop was Scoop and he'Äôs probably not going to change.
For all the frustration there was with the point guard play, the biggest positive of the week in the Garden was Fab Melo.
"Evidently the DePaul game was the best thing that could have happened for Melo, giving him some much needed confidence he was lacking. Hopefully he continues this run, but as of right now it'Äôs only two games and he shouldn'Äôt be counted on for 10 points and a bucketload of blocks/altered shots every night." – Bill
For the first time all year, Fab is 100% healthy. He no longer labors down the court. It's not painful to watch him move. He is showing some of the offensive skill that we heard about back in the preseason, and it's exciting and refreshing to know that he might not be a collasal bust after all.
"I'Äôm happy, no thrilled with Fab Melo'Äôs performance today. I honestly believe that another 3 years at Syracuse Fab will be the 'ÄúNATIONAL PLAYER OF THE YEAR'Äù and the #1 pick in the 2014 NBA Draft. St. Johns is playing tough basketball and will be tough to beat in the tournament. A job well done goes to the Syracuse Coaching staff and to the players for another great performance in the BIG EAST Tournament." -ron
Woah, Ron! Pump the brakes, kid!!! Yes he had two good games (one against DePaul), but you can'Äôt just discount the first 20+ games. I think Fab is going to be serviceable in the NCAA tournament and will benefit greatly from an off-season conditioning programming. He'll be solid moving forward as an Orange, but I would be shocked if he's a National Player of the Year or a #1 pick overall.
If Fab does pan out, he won't even make it to the 2014 Draft because he'll leave early. As for winning the Naismith, there are just too many good perimeter players in the nation in this era of college hoops with far more flash for him to win it unless he averages 20/10 and a few blocks. Even in his "amazing" game against St. Johns, Fab only pulled down 4 boards. He's not a good rebounder.
Kanell did an outstanding piece last weekend, dissecting the lost season in Minnesota for one of Orange Nation's favorite sons, Wes Johnson.
"Kurt Rambis is doing what Greg Robinson did for SU football: insisting that his players fit into his pre-determined system come hell or high water, no matter who the players are. What he SHOULD be doing is what great coaches do: assessing the talents of his players and then designing a game plan that maximizes their strengths while minimizing their weaknesses.

It pains me to see the two most talented Orangemen since Carmelo wasting away their talents trying to become something they'Äôre not. Not only are they losing years off their careers, they are being held back from developing their NBA games. Rambis could be ruining their entire careers. I hope and pray that management either trades them for players who do fit their beloved system, or fires Rambis and replaces him with someone who will use them properly." – Cuse Country
It's not often Orange fans still hold a close emotional attachment to former players in the NBA. But Jonny Ice and Wes are different. Unlike some Orange of recent vintage (we're looking at you Paul and Devo), Jonny and Wes displayed a genuine love of playing for SU.
Their smiles, demeanor and big play in big spots endeared them to Orange Nation for life. And to watch the Timberwolves stumble their way through another lottery season has been hard for us all to watch. No matter what, Jonny and Wes will have the passionate support of SU faithful throughout their professional careers – which has always been rare for 'Cuse fans.
On the gridiron, the most anticipated Spring Practice in recent memory kicked off this week and surprisingly a face from the past showed up – Shane Raupers. The former place kicker who left the team abruptly two years ago is back competing for the punting duties.
"Maybe Casullo being gone has something to do with it. I actually think DA is right in what he wrote. Probably a lot of immaturity, now almost 2 years later he realizes he made a mistake. Hopefully, he makes good on his second chance and learned from his mistakes." – Marty H
Raupers' return is truly bizarre. He disappeared into the mist two summers ago, now not only is he back, but at a different position. Maybe Marrone is a little less wound than he was in '09 when he was trying to establish a culture, so Raupers decided to rejoin. Maybe Raupers did indeed mature, realized a missed opportunity and is trying to regain what was lost. One thing that's evident looking back is just how tense that first camp was. The Dougie was on edge, players were leaving in droves, fans and media were dubious. Amazing to see how things have changed.
Posted: Craig Hoffman
(adsbygoogle = window.adsbygoogle || []).push({});