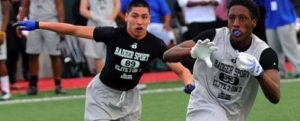 The Fizz believes the identity of mysterious "Recruit X" for Syracuse football is actually the nephew of Keyshawn Johnson, WR Michael Thomas. The Woodland Hills, CA product had a monster senior season, grabbing 86 receptions for 1,656 yards and 21 TDs. Scouting services place him as either a three or four-star recruit, sought after by some of the top teams in the Pac-10. Yet, for some reason Thomas is still without a school, one month after National Signing Day.
After speaking with sources having knowledge of the situation, The Fizz believes the trail of Recruit X lands at Thomas' doorstep. Phone calls to Thomas' head coach and athletic director at Taft High went unreturned. On Feb. 2nd, Doug Marrone wrapped up a successful third recruiting class at Syracuse and dropped this intriguing nugget at the podium.
"We have one player, that I'm not allowed to comment on, that we'll have a decision in 10-12 days on his status. That will bring us to a total of 84 scholarships and we'll know that later on in the week, and obviously we're not allowed to say what his position is or what his name is. That's the only thing we have out on the table and that'll wrap up the whole recruiting process."
All corners of the Orange recruiting world buzzed. Early it seemed the target may have been Nu'Keese Richardson, the oft-troubled former Tennessee Volunteer. Richardson's high school coach had said Syracuse extended an offer and The Fizz learned he was attempting to enroll in a community college to restore his eligibility. However, The Fizz then discovered the Orange had never offered Nu'Keese and the wide receiver still remains without a school.
The story of Thomas may match Richardson's in strangeness. Rivals ranked Thomas as the 36th-best wideout in the 2011 class, who reportedly had offers from most of the top schools in the west. Yet the Los Angeles Times, which has covered the story closest, reported he had taken zero official visits before Signing Day. Rivals says Syracuse did make an offer to Thomas, as did Pitt, Louisville and Cincinnati in the Big East.
Marrone's timeframe of two weeks would have made sense early last month, given what we knew then about Thomas. Allegedly, Thomas had postponed his decision because of the death of his grandmother – theoretically allowing him a week or two to clear his head and make a decision. However, one month later he is off the grid and questions still abound.
SU Athletics responded with an email to The Fizz about the unnamed recruit Wednesday morning. "Due to NCAA rules, Coach Marrone cannot get into specifics, except to say there is not an update at this time."
Sources believe instead it's been an academic issue all along. From the Times: "There is speculation that grades might have something to do with Thomas'Äô lack of offers. Or it may be that Thomas is having a difficult time, not necessarily with grades, but with demonstrating his eligibility (he was home-schooled for a year, which may have brought up issues of core credits)."
But the lore of Thomas still resonates at every turn. There are always clearinghouses for high-end talent, colleges willing to look the other way at a questionable transcript. So how is a young man with these praises without options?
"There's no need to take a vote on identifying the most improved football player in Southern California. It's receiver Mike Thomas of Woodland Hills Taft by a landslide. Last season, he didn't have a single reception. This season, he ranks No. 1 in the state in receiving yardage." - L.A. Times.

"If you're smart and looking for a wide receiver who will catch the football and move the chains, he's the guy. I see guys like this all the time who fly under the radar. He's a guy who can play. This is the guy who will help you keep your job. He's not a finished product. He's only going to get better." - Uncle Keyshawn on his nephew.

"What really stood out about Mike'Äôs play was the way he absolutely dominated opposing cornerbacks. Using an impressive combination of size, strong fundamentals and impeccable body control, Thomas made corners look silly all year as nobody ever really stopped him. Mike'Äôs tape is incredible and showcases the degree of difficulty in some of his catches and his awareness as a receiver. Thanks to great pedigree, Mike has a true football mind and knows the best way to beat the cornerback he is going up against." – CaliHighSports.com
Seems beyond comprehension a recruit of this caliber would still be without a home a full month after Signing Day. It's also abnormal Marrone would be interested in a player that appears to be an academic liability. But the stats and eyewitness accounts are overwhelming, maybe even for a conservative staff like SU's. Syracuse was waiting on Signing Day, like the rest of his suitors, for his academic eligibility to clarify, presumably in a few weeks. But that timetable has come and gone, meaning it's becoming less likely by the day Thomas would ever be admitted to SU.
The Fizz believes Syracuse is now distancing itself from its initial interest, understandably as the head-scratching story of a star wideout becomes hazier. The mystery is over on the identity of Recruit X, but the mystery of what ever becomes of the great Mike Thomas may never be solved.
Posted: D.A.
(adsbygoogle = window.adsbygoogle || []).push({});