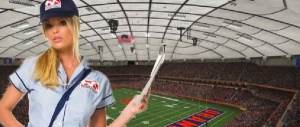 The Fizz'Äôs inbox nearly exploded this week thanks to¬†our live Tweet-Up during the McDonald'Äôs All-America game. Orange Nation had a different focus during this year'Äôs "burger game" than last season's. A year ago, Syracuse fans were enthralled by Fab Melo, who ripped down seven rebounds and playing well defensively, and Tobias Harris, who spurned the Orange in favor of Tennessee.
This week it was a cautious optimism while watching Rakeem Christmas and Michael Carter-Williams. Plus, who wasn't captivated by the name Myck Kabongo? Our Twitter buzzed,
"@orangefizz Beating the Kabongo drum!" – @Shue_Box
Orange basketball is intriguing not only because of the newcomers, but also the the returning starters. In regards to Kris Joseph:
"@orangefizz He's not declaring a year after seriously underachieving. Finally his team next year. Though I'd be fine with Fair starting." – @dioselev
Despite Joseph likely leading the team in scorning next year, it will still be Scoop's team. Jardine was the leader this year. He will be the leader next year. End of story.
One of the newest members of Team Fizz, Steve Neikem, suggested despite MCW dazzling with his athleticism, Rakeem Christmas will have a bigger impact in 2011.This triggered a lot of Fizz reader theories on different rotations. We've already established Syracuse should be the deepest team in the Big East, but we simply don't know how Jim Boeheim will use this depth. Fab Melo should be infinitely better. Riley should be healthy. Fair should add range. Scoop should get better. Kris should add bulk. Baye will be in play. The freshman are clearly unknowns.
Throw in the consistently inconsistent Brandon Triche, Dion Waiters and James Southerland and we just don'Äôt know who will play next year. Considering the Per'Äôfesser never settled on a rotation this year, it's silly to make predictions in April about playing time. However…
"does anyone else think we need to add #44 DC to the Assistant Coach staff??? I mean, a big man who played the position (and quite well, I might add) teaching our big men how to play the big man position. Isn'Äôt that just absurd? I must be smokin'Äô crack, right? Haha!" – AnaheimOrange
First and foremost, lay off the drugs. They're bad for you. Hiring Derrick Coleman to the staff is unnecessary. Bernie Fine has always tutored the Syracuse big men. It'Äôs easy to point to the debacle known as Fab, but Melo doesn'Äôt know anything about basketball. Some say Fine has lost touch with the modern player, but like Boeheim he'Äôs forgotten more than most of us will ever know.
DC does have the cred of being an outatanding former player, but that doesn'Äôt mean he can coach. Being part of a staff is about knowledge and teaching. The experience of having been there only helps if those other two pieces are in place. With Coleman, who never fulfilled his potential in the NBA, it's impossible to just assume he has those tools.
The Fizz's post on the future of Tobias Harris also drew plenty of feedback
"No one cares about Tobias Harris. I honestly could care less about him after what he did to the 'ÄòCuse. It wasn'Äôt so much that he didn'Äôt choose the Orange, it was how he did it and how he wanted attention. I honestly hope he goes undrafted." – OrangeCrush22
This sounds a lot like the night Orange fans booed his decision.
"Let'Äôs just hope DaJuan Coleman is not the second coming of Tobias Harris- i.e. local kid packs up and chooses the charismatic John Calipari over the personality-challenged Jim 'Mr Excitement' Boeheim."- MarchMadness
Certainly a valid concern. When selling us cars or windows, Boeheim can turn on the charisma. But he's no Calipari nor Bruce Pearl (although he does have a job). DaJaun is not cemented to SU, despite the Orange being considered the favorite. Coleman is an extremely polished post player and would have an immediate impact in 2012. After losing Tobias, can Orange fans can take the heartbreak of seeing Coleman don Kentucky blue?
In last week's Fizz feedback (Part II), we examined the comparison of the Big East in basketball to the SEC in Football. Not everyone was convinced.
"The BCS NC game is determined by comp ranks. I'Äôm guessing you used the espn/coaches polls to come up with those theoretical 'bcs' basketball games and that just doesnt work. The closest thing to how the bcs works in college basketball would be the sargin rankings and he had syracuse the #2 team heading into ncaa tourney last yr just so you know." – Carlton
Sagarin numbers would only be responsible for part of the rankings. The BCS also incorporates the polls which would have accounted for the fact that A.O. went down in the Big East tournament.  There's no way Syracuse would have been the #2 team.
Spring football was also in the air as Conroy's article about Groobers' recruits garnered plenty of attention.

"The thrust of this analysis is on target except for the assertion that recruits stopped coming to SU as soon as Greg Robinson was on the hotseat. Nassib, Bailey, Sales and Chew 'Äî the current standouts that you cite 'Äî each arrived at SU during Robinson'Äôs final season when he was clearly on the hotseat. And the reason these athletes hadn'Äôt gained attention until Marrone arrived is because, as most all freshman players everywhere, they were developing on the scout team and riding the bench behind bigger, stronger more senior teammates." – Ted
Groobers nabbed the recruits and they were on the bench during the starts of their careers. They would not have blossomed into stars if Marrone was not in charge. Considering the coaching failures Robinson has had while at SU and at Michigan, this is not really debatable.
Terrific feedback on the Fizz Twitter and in the comments section this week! Keep it coming as we move closer to the spring game and we'll guide you every football step of the way. Happy Fizzing everyone.
Posted: Craig Hoffman
(adsbygoogle = window.adsbygoogle || []).push({});