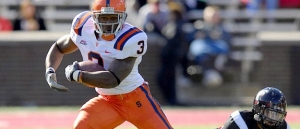 Delone Carter will never forget the moment he was drafted in the 4th round by the Indianapolis Colts. It was a memory he got to share with his whole family. Carter spoke with the Score 1260 (D.A. appears weekly on the station with Brent Axe) about the big moment.

"I came out of my room and my family is all jumping up and down and screaming. It was something else."

Carter got a second call after receiving one from Colts management just a short time earlier.
'ÄúHe was like 'This is Peyton Manning' and I was like 'For real?' We just talked about getting together and getting ahead and getting a head start with this lockout and and start to learn the playbook and all that and he was cool.'Äù

Indianapolis has shown a penchant for drafting Orange players (Marvin Harrison, Dwight Freeney, Taj Smith), the big question is how much can Carter contribute to the Colts early on? The lockout will clearly have an effect on Carter, especially if it means little or no training camp or rookie minicamps. He will be missing out on critical opportunities to gain experience learning the Colts complex offense, which is why meeting with Manning in the offseason could be critical to his development early on.
If there is a 2011 NFL season (America holds its breath), what role will Carter have in the Indy backfield? There are question marks surrounding their current running back situation, although there is no shortage of depth. Carter joins a group that includes Syracuse-native Mike Hart, Joseph Addai, Donald Brown, and Javarris James. None of these backs had more than 500 yards rushing last season and are an injury prone bunch, which could force Carter on to the field.
The other reason Carter could be limited in his contribution is the Colts pass heavy offense. Indianapolis led the NFL in passing last year, but was a paltry 29th running the ball, meaning less carries to be had. In this throw-first offense it will be critical Carter becomes adept at picking up the blitz, since that may be his best way onto the field early on. Carter has an early leg up on this as multiple draft experts have rated him as one of the best pass blockers in this class. Carter does have a weakness in catching the ball, which could hinder him from seeing early action.
Does Carter have the talent to make an immediate impact similar to that of former Orange star¬†Mike Williams, who broke out with the Bucs?¬†Many believe so,¬†especially when you factor in how tough he runs. A perfect example of somebody Carter could pattern himself after is Pro Bowler Frank Gore, who had a similar 40-yard dash time, height and weight. Carter needs better field vision and avoid the dancing that sometimes got him into trouble at SU. Once he gets going up field, he's a challenge to get down and won'Äôt give up easily. The Colts also like his attitude and several other teams agreed his Euclid¬†one-punch knockout isn'Äôt a concern.
Carter has the talent to make an impact, but the Colts will definitely rely heavily on the pass again and the backfield is crowded. Carter is also facing an uphill battle with the lockout and getting in top shape while learning the offense. He may never become a star, but he can be a serviceable back. It will probably take a few years, but eventually Carter can be a major contributor to the Colts backfield.
Posted: Alex Plavin
(adsbygoogle = window.adsbygoogle || []).push({});