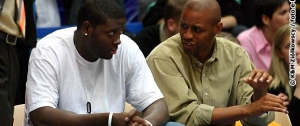 Virginia Tech head coach Seth Greenberg tells The Fizz new Syracuse assistant Adrian Autry is a terrific hire.
'ÄúI think he'Äôs a cant miss, he'Äôs gonna do a great job for Coach [Boeheim]."
Autry was on Greenberg's staff before he was plucked by his alma mater this week. 'ÄúRed'Äù as coach Greenberg refers to him, has years of experience as an assistant at not only the college level but the high school and AAU levels as well. Autry has big shoes to fill for the departed Rob Murphy, but certainly has the potential to succeed big at his alma mater. Greenberg stressed Autry'Äôs abilities as a communicator and how he relates with kids.
"He connects with people he really does a good job of connecting with people and everybody likes Red."
Connecting with people will be key for Autry, since one of his major responsibilities will be replacing the recruiting of Murphy. Murph had his hand in several major recruits coming to the SU in recent years and has developed quality pipelines to SU. Autry will need to maintain these connections and further develop others to set himself apart.
One of Autry's biggest assets on the recruiting trail will be those AAU and high school ties. Before joining Virginia Tech Autry spent several years coaching in AAU and overseeing high level summer clinics for elite players. Autry also has a solid network in the right area for Syracuse according to Greenberg: "His network is in your geographic footprint."
There are some concerns about Autry though, especially on the recruiting trail, where he lacks experience. He was only on the road with Virginia Tech for one year and he didn't have a specific hand in bringing in any players from the class, because the Hokies recruit so far in advance.
"We recruit so far out in advance we had our whole class signed or committed by the time he was actually on the road."
It's certainly a huge question mark for an inexperienced recruiter like Autry to be filling the shoes of such a critical force on the trail in Murphy. Murph was responsible for nabbing Kris Joseph and CJ Fair, as well as developing a relationship with Wes Johnson which helped land him in Syracuse. He must pay careful attention to not only growing his own connections, but keeping the one'Äôs Murph created as well or risk losing major recruits.
The recruiting issues are certainly Autry's biggest area of concern, but his background with the Orange is a huge asset. AA played under Boeheim from 1990-1994. Greenberg says it's a big advantage to coach where you played and Autry will have a big edge because he already knows what Boeheim looks for.
There is no question Autry has the coaching and recruiting skills to be at Syracuse, but replacing Murphy is no small task.
Posted: Alex Plavin

(adsbygoogle = window.adsbygoogle || []).push({});