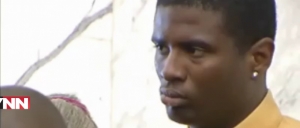 (Update: 5:23p, Thursday. The court drama of Broyld is finally over, as he pleaded guilty to one count of disorderly conduct in Rochester City Court today. He finally admitted to the events that The Fizz reported months ago in dropping his pants, exposing himself and gesturing as he made remarks to on-lookers after a state playoff game.
The Broyld legal team and his mother had refused to allow Broyld to fully admit and describe what had actually happened. As a captain of the opposing team that night told The Fizz, "He whipped out his d***, told us all to 'Äôsuck it, f*** you,'Äô etc. He walked back in, threw a couple trash cans in the tunnel, and then went back to his locker room.'Äù
Some community service, a small fine and Broyld can now come into Syracuse and compete for the quarterback position. Nothing of consequence changed about the incident throughout the legal proceedings, begging the question why Team Broyld continually dragged this on.
We've spoken to Broyld here at The Fizz and he struck us all as a smart, mature young man who had a solid head on his shoulders. Everyone's allowed a mistake, especially when you're as young as Broyld. This was a terrible error in judgement, specifically for a player who is attempting to develop at the ultimate position of leadership in team sports. But this entire situation should have been resolved months ago and allowed Ashton to move on quicker.
* * *
What is happening with Ashton Broyld right now and does he have the wrong people guiding his legal process? Those are important questions after the Syracuse recruit's time in court will now drag on for at least another three weeks.
What we know is Broyld and his team will admit to wrongdoing. They had a sweetheart deal set up, where all he had to do was pay a paltry $120 fine and perform 80 hours of community service (which would be a nice gesture from the New York Player of the Year without it being forced). But he had to cough up details on what exactly happened that night. At the last moment, Broyld's team balked at describing the incident, refused the deal and now we're back in court again on June 30.
Now remember, Broyld's legal team has already rejected a plea deal once before because of the terminology "exposure." Yesterday, it denied another one because someone advised Broyld not to describe what happened. Originally, The Fizz pointed the finger at his legal team. His lawyers are (presumably) there to protect him and expedite this process, instead of battling the courts over something as trivial as wording. What good comes out of putting this in the news even longer?
Yet, here we are again, with camera and microphones trailing Broyld walking in and out of court, only to dance the dance again at the end of the month. But it looks like there's a new guardian of Broyld's image to question: his mom.
ABC-13 in Rochester reports:
"Broyld's mother objected to the language in the plea about Broyld allegedly exposing himself at a Blue Cross Arena basketball game.

Broyld's lawyer and the prosecutor could not agree on different language before court adjourned for the day."
While Rochester and Syracuse media have avoided giving details,
The Fizz
actually spoke to a captain
of the opposing team on what actually transpired.
"He whipped out his d***, told us all to 'suck it, f*** you,' etc. He walked back in, threw a couple trash cans in the tunnel, and then went back to his locker room."
The Henrietta Post reported, "Broyld backed out of the plea at the last minute today. The district attorney in court has asked Broyld to admit and disclose the details of the evening."
When you imagine the situation, Broyld "dropping his pants and yelling to the crowd" (how it's widely being reported) probably makes you disappointed, but little else. If you read Broyld's theoretical testimony that stated, "I pulled down my shorts, grabbed my p****, and began yelling 'suck my d***, f*** everyone'" you'd probably cringe and wonder if SU really should extend a $120,000 education and a leadership position on the football field his way. So it's understandable why Team Broyld wants to avoid this.
The incident is ugly for Broyld, but there is no footage of the affair, which is both shocking in the age of the cell phone cameras and a Godsend for the Broyld clan. You cannot run from the truth forever, though. By continuing to dodge coming clean about the outburst, the situation is growing worse.
The Fizz spoke to Broyld last weekend after the Upstate/Downstate Classic and he said he plans on being on campus July 3rd. His attorney's statement: "He wants to move on and start his career at Syraucse University. He wants to close this chapter and move on. He's apologetic for the negative attention to him, his family, his school and is committed to changing his life for the better."
The scholarship is probably a very sensitive matter, although Broyld's attorney has insisted Doug Marrone has given his assurance it will not be revoked. Publicly admitting to whipping it out and screaming obscenities to the crowd is not pleasant, but it's the truth. We know what Broyld did after the game in March. His lawyer says he's apologetic about the negative attention. So why do the people around him keep creating more of it?
Posted: D.A.
(adsbygoogle = window.adsbygoogle || []).push({});