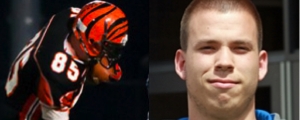 Doug Marrone is casting his recruiting magic once again, this time in "Crazy Eyes" Greg Schiano'Äôs own backyard. Ryan Morris, the three-star tight end from Barnegat HS in New Jersey, has schools salivating over his services, including the Orange. At 6'Äô6'Äô'Äô and around 230 pounds, the tight end has a rare combination of size and athletic ability at the end position. Can the Orange steal Morris from under Rutgers'Äô nose? Wherever he ends up, Barnegat head coach Rob Davis says that the massive TE will fit into any program and provide an immediate impact.
"He is an easy guy to put into the program because he is not going to rock the boat. He is going to do as he is told; he is going to make you look good and he is going to have fun. He is a hard working, athletic big kid. He is going to have a good college career."
Morris is an athletic freak. On film he makes moves and catches balls that people at his size shouldn't make. What makes the New Jersey-product even more tantalizing is that receiving is not even the best part of his game. Davis describes Ryan as a block-first tight end. That talent combined with his size has some scouts indicating a switch over to lineman for Morris. But, as his coach says, there is no way a talent like Ryan will be wasted switching from a skilled position to a man in the trenches.
"He is really athletic, especially for a tight end. Athletic kid that can play wide receiver at the high school level and he is a tight end at college. People have been saying that (he can switch over to the line) because of his size. But there's no way."
Morris had 30 catches for 494 yards and four touchdowns last season for the Bengals. Davis told ESPN in March that Ryan is "rangy kid who catches the ball in traffic." Davis also added that he "reads coverage real well because the offense runs a lot of option routes."
Davis is not giving any hints on the favorite for Morris right now, and Ryan has said there is no clear leader. Davis will sitt down with the tight end this week to map everything out. He said he wants Ryan to visit more schools and take a look at the total package. But Davis did tell The Fizz the factors that will go into that decision-making.
'ÄúContinuity with the coaching staff, the players'Äô rapport with each other and also with the coaches. You know also academics. But he still has to find out if he wants to stay local, go to the northeast or go down south, that'Äôs what it is going to come down to. It is all his decision."
Morris has visited a bunch of schools and has offers from about a dozen programs including Purdue, Cincinnati, Indiana, Illinois, South Carolina and Louisville. Getting him to play in the Dome in 2012 would be a huge addition. After this season, the 'Cuse loses two tight ends in Nick Provo and David Stevens to graduation. The Fizz had both players on the first team offense on our spring depth chart. Adding Morris' big frame to the offense would give SU a red zone threat as well as a tight end that can catch and block at a high level.
Morris visited the Syracuse campus earlier this year and coach Davis said that the tight end enjoyed himself. That is promising for the Orange.
"Yea he liked it, it was a good experience. The coaching staff was excellent and he had a good time up there."
If SU does lure the tight end to the Hill, they would get a special player that cares more about the team than himself, says Davis.
"Ultimate team player. You know when you're a tight end a lot of attention goes to you and you open the doors for a lot of people and he never complains. He is a block first tight end. He does whatever he needs to do to make the team win. And he will never complain, never ever complain."
Posted: Dave Van Moffaert
(adsbygoogle = window.adsbygoogle || []).push({});