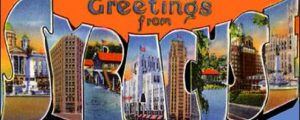 Chad Kelly announced his decision to attend Clemson last week, becoming the next prized recruit to go down as a near miss for Doug Marrone and staff. Kelly followed Ishaq Williams and David Perkins earlier this year as big fish that Syracuse just couldn't quite reel in.
And while it speaks well for the coaching staff that the Orange is even in contention for this level of recruits, the question becomes: What's holding the Orange back from finishing on these top prospects? There's no one reason to point to, but there are a few areas in which the Orange is simply a step behind the elite level programs, like Clemson and Notre Dame.
1. Facilites: As The Fizz has discussed before, SU needs a step up in facilities to compete at the highest level. Practice fields, workout areas, training centers all make a HUGE difference in recruiting. They are a high priority for most of these 17 and 18-year-old prospects who are enamored with being on the cutting edge. The great facilities a program like Notre Dame offers provides a "WOW" factor for recruits when they visit campus. As exciting as the Carrier Dome can be for some, it hasn't been The Loud House in years for football, and can't compete with the atmosphere of Big Ten or southern stadiums.
2. Exposure: The Orange will take a nice step forward in this area next fall with three primetime games, but for years the best they could hope for has been the noon game on ESPN2. The top recruits want to be on network TV and get national attention. Clemson (Kelly) Notre Dame (Ishaq, Perkins) and Penn State (Jarron Jones) all offer more national exposure than Syracuse at this point.
3. The Big East: Syracuse has no intense rivalry in football, and the Big East has fallen way behind the other BCS conferences in recent years. Pitt, Rutgers, Cincinnati and South Florida have been the bench marks in the league for the past five years. Having those teams on the schedule just doesn't have the same cache of squaring off against Ohio State and Michigan or Virginia Tech, Miami, and Florida State every year.
4. Winning Big: The Pinstripe Bowl was a landmark victory and a giant step forward for the SU football program. However, the bar is set much higher at big time programs that are landing blue-chip recruits. Alabama, Penn State and Notre Dame have expectations of national rankings and BCS bowl games every year.
Number four is the key. Winning on the field will lead to increased exposure, fewer empty seats in the Carrier Dome, and more revenue to improve facilities. By winning a bowl game and being in on recruits like Kelly and Ishaq, the Orange is ahead of schedule under Marrone. In order to start landing those top level kids, SU needs to prove at the very least it is a perennial contender in the Big East.
For now, Syracuse needs to concentrate on beating Big East rivals like Rutgers and Connecticut in recruiting. It's still too early to expect the Orange to win a recruiting battle against Alabama, Clemson, and Florida State. SU is getting closer to that level, and has done it quicker than many expected, but there's still a long way to go before we can expect top level national recruits to start flocking to CNY.
Posted: Steve Neikam
(adsbygoogle = window.adsbygoogle || []).push({});