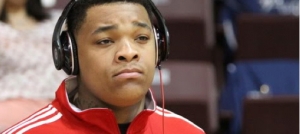 It's impossible to overstate the importance of Syracuse-product Dajuan Coleman coming to the Hill in 2012, and his coach tells The Fizz three schools stand out above the rest for him: SU, Kentucky and Ohio State. And good news for the Orange, Brandon Triche could end up being the swing vote.
The slimmed down big man is currently embarking on a summer long AAU tour across America taking on many top high school players. However his coach Robert McKenny believes he might be better served staying home:
"I think those AAU programs are too game-playing oriented, I'd rather see DaJuan around here working on his game and improving his skills, but all these kids do it."
Coleman is a top priority for several schools, but the sweepstakes for his services seems to be narrowing down to a clearcut group of favorites.
"There's a clear top 3, they are the top choices right now: Syracuse, Kentucky and Ohio State. Things can change and I've talked to UNC and several other top schools about him, but right now those 3 stand out."
The Orange and Wildcats being included comes as no surprise, but the Buckeyes seem to have joined in as the 3rd horse in the race. While it's never comforting to battle two hugely successful coaches in recruiting in John Calipari and Thad Matta, it's reassuring to hear the Orange is firmly in the top 3. McKenny said if it was up to him he knows where Coleman would end up.
"I'm a huge Syracuse fan living around here sent several players there. My job is to figure out the best place for him but deep down I want Syracuse."
Coleman will continue to play AAU ball until returning for his senior year at Jamesville-Dewitt, and don't expect his recruitment to drag on too long. He plans on making a decision by November so he can enjoy his final season. That won't stop Coleman from looking at his options though, as he will make all 5 of his school visits.
The Orange will have to rely on its longstanding relationship between Coleman and the coaching staff as well as the hometown connection. McKenny says despite the pressure to stay home Coleman ultimately won't let that be the deciding factor. Kentucky has the flashiness of Coach Cal, but the Orange could hold a key to the big man's recruitment according to his coach:
'ÄúBrandon [Triche] staying for his senior year is key to DaJuan coming to Syracuse. He played with him, likes to play with him and really respects him on and off the court."
According to McKenny, Triche and Coleman were good friends in high school and Coleman respects Triche both on and off the court. The pair won a state title together when Triche was a senior and Coleman a freshman.
So there you have it. Syracuse will be there at the end and a current member of the Orange could play a key role in his recruitment. Coleman will continue to be a key blue chipper as the class of 2012 becomes clearer.
Posted: Alex Plavin
(adsbygoogle = window.adsbygoogle || []).push({});