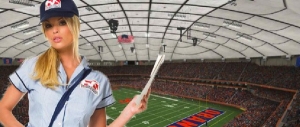 Crazy week at The Fizz as two of the recruits we've been following closely seemed to drop Syracuse from the running. First was Jarron Jones, the Monster from Rochester who first told WHAM in Rochester that his list is down to 4 schools and that Syracuse wasn't one of them. The Fizz, however, quickly followed up with Jones' coach who said that SU was still in it. But Scout now has Jones' interest in the Orange at "none" and an article in the Rochester Democrat and Chronicle seems to back up the WHAM report.
"I refuse to read another article on Jarron Jones because i already know the outcome. Hey Jarron, become your own man and help rebuild something instead of being another big fish in a big pond. -OrangeCrush22"

"Jarron Jones is the type of 5 star recruit that SU should have the best chance of landing'Ķ he is a local NY state kid. If we can'Äôt land him, who can we land. He says he has the best relationship with the SU staff compared to any schools on his list (WE HAVE HEARD THAT BEFORE) The Cuse has to ask the question: Why do all of these recruits love Notre Dame and not us. Last time we played, Grob beat them at Notre Dame! What is it going to take to bring Sexy back to the Cuse? We are not appealing to these 5 star hotties. That is what the evidence suggests. Cuse needs a makeover. -Dr. Bill"

"Jones was never going to come to SU. Get it through your heads, SU is not going to become a top tier football program in one day. We won the freakin pinstripe bowl and now we are going back to the glory days, right. Takes a couple years to remake a program and these 5 star recruits are not coming here at least 2-3 years, and that is of the team continues to win. -M&M"
Guys want to win. Winning makes you a big name. Being a big name makes you a hot NFL prospect and that's where you start making money. So SU with only one winning season since 2002, facilities in need of upgrade and a stretch of players drafted in the later rounds by the NFL means there's some catching up to do. Does that mean anyone should be satisfied with this outcome? No way. Just means it's not surprising.
The other recruit was from the hardwood as Brian Oliver fist-pumped his way to Seton Hall. At the end of the day, this isn't a major loss for the Orange. Does it need a shooter? Absolutely. But with Syracuse's recruiting chops in hoops, hopefully on his coming in the near future and Trevor Cooney is coming in this year.
"This doesn'Äôt feel like a big loss to me at all. He had a couple of big games at Ga Tech but that was about it. Most transfers are much adieu about nothing, w/Wes Johnson being one notable exception. We shouldn'Äôt have any problem finding another marksman to pair with Cooney. -BostonJay"

"Well, we all make mistakes. Not everybody gets to get beat by 'Äòcuse wearing 2 different jerseys. *FIST PUMP for you BRO! YEA JERSEY'Ķ lolz"
This lolz has been green-lighted by The Fizz as long that it's only mocking Oliver. Lolz in other arenas can be dangerous to one's manhood.
Meantime, football recruiting is off to a blazing start in July, picking up so many recruits that we're not going to put a number here because it'll be wrong in 10 minutes. However, the best news could be if David Perkins re-opens his recruitment.
"The day Perkins chose ND, i asked in the comments section, what is stopping him from still visiting 'ÄòCuse? Just because you make a verbal means nothing (example: Jarron Jones). I feel that he needs to make a trip up here to help weigh his decision. -Ron"

"We need to get this kid to the Cuse on a greyhound ASAP'Ķ'Ķ. Of all the Big Fish who have gotten away, Perkins is the one that I felt really missed out on an opportunity of a lifetime by not choosing the Cuse. At Notre Dame, at best he could be a great player in a long line of great players'Ķ at the Cuse, he could be the face of a program on the rise to elite and become a media Darling like no where else. Go Cuse. I would have Floyd Little meet him at the bus station. -Dr. Bill"

"I wish the staff would have flown out to see him. Maybe they still can, because I doubt he'Äôs going to visit now unless something changes. It sounds like if he'Äôs opening his recruiting, it'Äôs for Oregon. -jon"

"Wheatly should only talk to him. HCDM will scare him off with the building a man theme. LOL Big get if possible. Offer 44!!! -Terry"

"don'Äôt forget smallwood flamed out so perkins would have a great shot at starting in a wide open backfield. Compared to sitting for at least two years at Notre Dame -tfreyguy"
"Guys'Ķ.. he has IRISH with a shamrock shaved into his hair right now. And is recruiting crazy hard for ND and posting excitedly on Facebook about possibly leaving The Opening with two more commits for the Irish. That comment he made to ESPN was taken TOTALLY out of context. I do not see him going Orange. Also, he doesn'Äôt want to play RB. -Realist"
Ouch, buzz kill. Perkins was all-in for the Orange until Notre Dame came calling and if he had been able to meet with the SU coaches things might have worked out differently. If Perkins does reopen his recruitment then SU needs to go all in. Wheatley will surely be involved, as will Doug Marrone. Perkins could be good enough to swing a Big East chase if he's playing for SU. Despite the evolution of the Orange passing game, it seems like SU will always be a ground-heavy offense under The Dougie.
"Recruiting is less like fishing and more like dominoes. fishing is luck, while dominoes are logic. Recruits want a logical school, that'Äôs prestigious, academically ok, has excelling coaches who they could see themselves gelll with, early playing time, and lastly all big recruits want the best shot they can get of playing pro football. The average 4 star recruit is not intresred in becoming a welll rounded man, he wants national exposure. Back to the domino theory, if you drop one dominoe, then 2 more will drop and so on until your scholarships(dominoes) run out. -the dome"
This is a really interesting point. Plenty of recruits (more so in basketball because of the AAU circuit) know each other and where their friends and rivals are choosing. That's why the big targets are enormous stories for the Syracuse program. Who will be the first one to make the leap? And once you land one blue-chipper, there's no telling what the trickle down effect will be.
Remember to listen to the FizzCast for more from the Fizz Feedback and continue to comment under all of our stories. Also, reply to us on Twitter (@OrangeFizz) and we'll hit you back there as well.
Posted: Craig Hoffman
(adsbygoogle = window.adsbygoogle || []).push({});