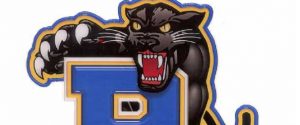 It had been two weeks since Syracuse reeled in a recruit, so when the Orange picked up Jacksonville linebacker Leroy Owens it marked more noise for an unusually quiet football recruiting scene. With the explosive way July started for SU, going that long without a commitment was a substantial amount of time. But Syracuse plucks their fifth recruit of the month with Owens (Palatka HS Panthers) and marks the program's 4th recruit from the Sunshine State.
Owens fits the same mold as many of the other SU commits this summer. He's not highly rated by the scouting services and Syracuse didn't really beat anyone to get him. In fact, Syracuse was his only offer.
12 days

until Big East Media Day. Follow The Fizz on Twitter for live updates from Newport, RI on Aug. 2nd and the freshest SU recruiting news.
Owen's highlight tape is not exactly spectacular but to an informed eye, one thing sticks out. The kid is incredibly disciplined. He never leaves his assignment. For a coach like Marrone who is sure to utter the phrase "assignment football" in nearly every press conference this year, Owens is certainly appealing.
Owens doesn't think of himself as a big hitter, but instead a form-tackler. However, he has uttered one of the quotes of the summer already: "I like knocking people over."
At 6'3", 205 lbs, Owens will play linebacker at SU despite spending a lot of time with his hand on the ground at Palatka. While on the line, he could always be counted on to have backside contain, on top of being effective as a pass rusher (10 sacks). Owens says he likes playing MLB, but the Orange coaches like him on the outside.
If Owens is another signature Marrone diamond in the rough, he can be a toy for Scott Schafer to play with. A player who understands his job and can step into multiple positions on the field is invaluable. With a possible redshirt year to learn under Marquis Spruill (who would be a third-year starter at that time) and another season to play under him during Spruill's senior campaign, Owens has a tremendous opportunity to make the best of his one and only scholarship offer.
The question is, as it is with a handful of the SU recruits in the class of 2012, does he have the talent and natural ability to play in a BCS conference? We won'Äôt know for a few years, but for now… In Marrone We Trust.
Posted: Craig Hoffman
(adsbygoogle = window.adsbygoogle || []).push({});