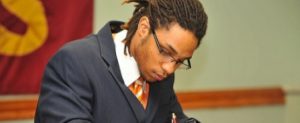 Tremendously good news for Orange Nation just two days after the stabbing of Syracuse running back Prince-Tyson Gulley, as the sophomore tells The Fizz he's feeling good and is excited to get back on the field.
"I'm out of the hospital. Yeah, I'll be back. I'm good. Just taking it slow now."
We know his injuries aren't life threatening which is a relief to everyone, since he was stabbed multiple times Friday night at a party. He was in good spirits when I chatted with him over Facebook. The university has been understandably tight-lipped after the incident, although Doug Marrone did issue this statement:
"We are aware of the incident in which Prince-Tyson Gulley was injured last night. He is recovering from the injuries and will be under the care of our medical staff. We will continue to work with the proper authorities as we handle the matter internally."
His health off the football field is the first priority, and after such a traumatic experience there's a chance Gulley could be redshirted (he enters the season as a true sophomore), with Marrone and the medical staff playing it cautiously. But the early signs are very positive for Gulley's return to 100%.
Another story of violence off the field for a student-athlete may not sit well with some fans. There's always the possibility someone has pegged Gulley as a knucklehead who put himself in a bad situation, but that person would be dead wrong about PTG. I was able to get to know Gulley through a class we had together last fall. Words that describe him wouldn'Äôt be 'Äúreckless,'Äù 'Äúcareless'Äù or anything of the like. Instead, when I think of Tyson I think of 'Äúsmart'Äù and 'Äúwell-spoken.'Äù
The class was Sociology 101 and Tyson would often be a large part of the discussion in lab and wasn't afraid to speak out in the 100+ person lecture. He is the typical Marrone student-athlete, just as smart on the field as he is in the classroom. After the opening game against Maine at the Dome last year, Tyson and I were on the same bus back towards South Campus. Gulley had gotten carries late and I told him, "When you watch the film, you're going to kick yourself. If you bounced it outside, you could've walked in."
His response? "I just had to keep it inside man. Run the clock out. That was my job." He walked into class Monday and said he saw the hole on film. Next week with 4:14 left against Colgate he charged in for his first career touchdown.
That Gulley is feeling well and in good spirits is truly all that matters. However, there is a football side to this story, too. If Gulley is redshirted,¬†the Orange are incredibly thin at running back behind Antwon Bailey. The only other speed back is Steve Renee, who's listed at 5'Äô7'Äù 174, but is probably closer to 150 lbs. The other options include Jerome Smith, who was having a good spring until he was sidelined with a concussion. Sophomore back Mario Tull played linebacker last year for SU and¬†Fizz favorite Adonis-Ameen Moore is just a freshman.
Violence, and particularly stabbings, are something that have become far too common in college athletics. From my time at MTSU, I knew Tina Stewart, the Lady Raider basketball player who was fatally stabbed to death by her roommate (a non-athlete). Big East football is no stranger to the violence either, as memories of UConn DB Jasper Howard surely flooded to the minds of many when they heard the news of Gulley. It's a rash of senseless violence that somehow needs to end.
For continuing coverage of Gulley's return to football¬†follow us on Twitter. If you'Äôd like to send your own get well wishes to PTG, he's also on Twitter: @DaPrince23SU.
Posted: Craig Hoffman
(adsbygoogle = window.adsbygoogle || []).push({});