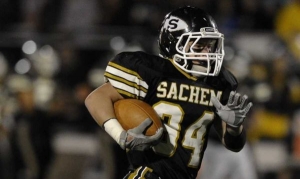 Dalton Crossan, 5'Äô11'Äô'Äô185 lb. running back out of North Sachem HS¬† (Lake Ronkonkoma, NY), might not be the most sought after recruit in the country but¬†Syracuse has offered him and the kid can play. Right now the Orange is the only BCS school to have extended a scholarship. His other offers are¬†Fordham, Stony Brook and Pennsylvania. Crossan fits that Doug Marrone "diamond in the rough"¬†mold which¬†the 2012 class of commits is stocked with. The Fizz spoke to of the editor of the Sachem Patch, Chris Vaccaro, who covers football in Long Island. Vaccarro says while DC is¬†under the radar on the national recruiting scene, he is a dynamic player.
'ÄúDalton's field vision and cutting ability is outstanding. I'Äôve been covering high school sports for about a decade and very rarely have I seen someone who can compare. 'Äú
Crossan exploded on the scene in his first year at North Sachem, posting 984 rushing yards and an impressive 20 combined touchdowns. Dalton seems to have rockets on his cleats and is rarely touched with ankle-breaking juke moves. DC is a touchdown waiting to happen.
His cuts are silky smooth and he's one of the shiftiest players in the region. It feels like having a Madden juke stick watching him on the field. His ability to change direction and accelerate is very impressive, as evident by the footage from the NUC 5 Star Showcase.
He appears to run crisp routes, catches the ball with his hands instead of his body and puts on the burners leaving defenses in the dust. While DC is a stud in the backfield, The Fizz can see Crossan playing a slot receiver role in the college ranks. He was tearing kids up when running routes at camps this summer. Vasrcarro says where ever he plays, expect a playmaker. 
'ÄúHe can be playing special teams, running back or in the secondary on defense and he always makes the big play. He is light years ahead of his competition, which is why he'll be in the running for the Hansen Award, given to the top player in Suffolk County.'Äù
The only down side in DC is his size,¬†a major reason he doesn't have offers from other BCS schools. At only 185 lbs. he would take a beating at the running back position at the Division I level. His quickness and evasiveness are top notch, but he probably can'Äôt be an every down back. If he does remain in the backfield in college, Crossan can fit that scat back position/third down back in the offense. Give Dalton the ball, and he will find his way to wiggle around you to pay dirt.¬†
'ÄúHe can run in any direction, but is more suited as an east west runner since he'll almost always juke and deke his way around oncoming opponents. It's amazing to watch.'Äù
While Crossan has only a handful of offers at the moment, more scholarships should flow in soon. Buffalo and others are waiting to see him play games this season before offering. Connecticut and Rutgers have both shown interest in the back. Vaccaro says DC will most likely make a commitment during the season.
SU already has a slew of Long Island players ready to make an impact in the 2012 class including Alvin Cornelius, Devante McFarlane and Omari Palmer. Adding Crossan would add another weapon that could wreck havoc playing on the fast track Dome turf.
Posted: Dave Van Moffaert
(adsbygoogle = window.adsbygoogle || []).push({});