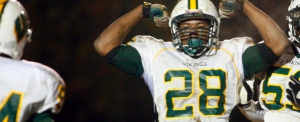 It's sweet revenge for Doug Marrone, as LB/RB Darius Parson from Virginia (Woodbridge HS) gives his verbal to Syracuse. Even though Parson is projected to be a linebacker in college, he was getting heavy interest from Boston College at running back. Remember it was just last month the Orange lost a dynamic back in their backyard to the Eagles.
Follow The Fizz on Twitter for live SU recruiting updates
Akeel Lynch is a Toronto product that had moved to Buffalo to gain more exposure. He chose BC in July because of its running scheme and a close relationship to the coaches. While he was only a few hours down the road, it never seemed as though SU was a true player for Lynch, and Penn State became a finalist as well.
The Fizz wrote at the time:
"It'Äôs hard to fault SU on missing out on Lynch. He was only in the Orange backyard since the beginning of last season. To beat out schools like Penn State, and even to a lesser degree Boston College, Syracuse needs to build a relationship and a bond from an early stage. If the big boys come calling after just one season in the States, at this point in its football timeline, SU will find it tough to win that battle."
But SU returns the favor in some ways by nabbing Parson. While SU was the first school to offer a scholarship, he was getting interest from much bigger programs and had been invited to both Virginia Tech and Tennessee's camps. Parson was named to the All-Cardinal District first team and the All-Northwest Virginia Region second team last year at linebacker.
As The Dougie told me at Big East Media Day, the priority for the Orange is to offer kids early, before they get interest from higher-profile schools. SU needs to do its homework on a recruit at blazing fast speed, instead of waiting until an athlete has a break out season.
This approach is working. SU has picked up commits from players who are starting to build a buzz, but have not had another offer yet. Linebacker is also a position of need right now for the Orange. A enormous amount of leadership walked out the door last season in Derrell Smith and Doug Hogue. While Parson would be on the field for the 2012 season at earliest, Marrone is constantly looking for speed and playmaking at the position.
Marrone may just want to put a bug in Parson's ear, though, concerning his tweeting practices before he gets on campus. The recruit recently delivered a dose of TMI with "I'm scratching my balls."
Job well done by the SU coaching staff again. Got the offer out early to a recruit on the rise at a position of need, and you get to land a return blow to Boston College, a regional rival on the recruiting circuit. Hey Eagles, two can play this game.
Posted: D.A.
(adsbygoogle = window.adsbygoogle || []).push({});