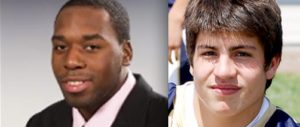 Doug Marrone says the two SU players arrested in the past week, Jonny Miller and Marcus Sales, are suspended indefinitely right now. The Fizz has spoken with those around the program to try and gauge the potential for either Miller or Sales to play for the Orange again.
At Big East Media Day last week in Newport, even before Miller's arrest, Marrone was already agitated his program was placed in a bad light again. He had dealt with the Delone Carter situation last season, Malcolm Cater's dismissal and Ashton Broyld's public embarrassment. His frustration must have taken another leap when he learned of his young quarterback in Colorado.
Marrone told D.A. on Tuesday, "I just want to make sure people understand, we've done a lot of great things in our program. Things like this unfortunately occur, but it's not a reflection of the whole program."
Both players are suspended for the time being, but will either have a chance to play for SU again? The question burns hottest for Sales. He was supposed to be an important part of a Big East contender. Nolan Weidner of the Post-Standard spoke to The Fizz in Newport last week, and felt Sales would miss significant time.
"I don't think I'd bet a lot of money on him being on the field anytime soon. Does that mean he's off the team? I don't know. Doug Marrone doesn't even know that, at least that's what he's telling us."
Is it likely Sales returns to the field this year?
"I'd have to say no from this position right here, no, the short answer would be no."
Syracuse won't give a firm answer either way,¬†but it certainly doesn'Äôt appear good for the wideout. Unfortunately,¬†Sales looked great with Nassib in the spring and he'Äôs obviously coming off a huge Pinstripe Bowl. But with the severity and multitude of charges facing Sales it'Äôs hard to imagine a quick resolution.
Marrone has certainly booted less talented players for smaller transgressions than drug charges, but we know guys with elite talent get longer leashes. Sales' best chance would be having the drug charges pinned on his older brother, but it's impossible to say what the court case will hold.
The good news for Sales is that he's not due back in court until February. Meaning, Marrone can make his own decision regarding the wideout's eligibility this season without being influenced by a conviction. But remember, Sales is also a holdover from the Groobers Error. This is an athlete inherited by Marrone. Sales'Äô career could end like Mike Williams, with a dismissal, leaving many to wonder what could have been.
For Miller, the charges are less than Sales, but his value to the team is as well. Jonny was already buried on the depth chart and hasn't challenged for any playing time since arriving at SU. It's easier to wave goodbye to the 4th string quarterback, even if the incident is far less than Sales' situation. But if Marrone does bring Sales back at some point this year, can he turn around and run Miller off the team for a lesser charge?
For Prince-Tyson Gulley, it looks like his stab wounds will cause him to miss the next 7-10 days, but luckily not much more. Weidner believes it was a case of bad timing for PTG, not a judgement on his decision-making.
'ÄúI think it was kinda wrong place, wrong time."
As Nassib told The Fizz, Sales' situation simply means somebody else will have the opportunity to step in and fill the void. We don't know yet how much these incidents have will impact Syracuse football, but Marrone has to decide whether he wants to give these two players a chance at redemption or send a loud and clear message this will not be tolerated within SU football.
Posted: Alex Plavin
(adsbygoogle = window.adsbygoogle || []).push({});